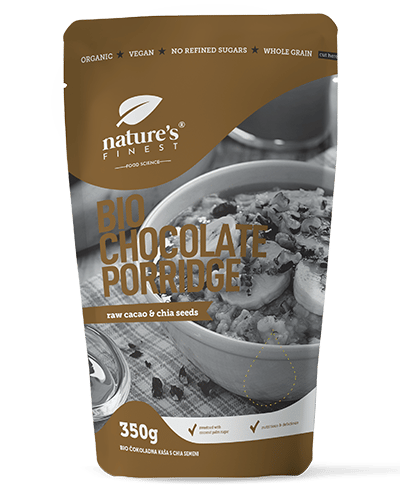 14-day refund policy

Free delivery for orders over 50€

Delivery within 6-7 working days









FOR A HEALTHY BREAKFAST!
A perfect creamy blend of oats, raw cocoa, chia seeds and coconut sugar.
For a delicious and healthy breakfast prepared in just 3 minutes. Porridge is an excellent source of protein and dietary fibre and contains only naturally occurring sugars.
100% NATURAL INGREDIENTS
Oat bran
Oat brans are considered as one of the healthiest choices for breakfast. They are rich in vitamins, minerals and antioxidants, which support our health. The type of carbohydrates contained in oat brans is considered to be extremely healthy. Oat bran contains a lot of fibre, and therefore carbohydrates are released into the bloodstream very slowly, which means that they do not cause a rapid rise in blood sugar levels.
Cocoa powder
For a delicious chocolate flavour and lots of micronutrients. It is rich in magnesium and iron, which help reduce fatigue and exhaustion. It is a rich source of antioxidants, contains even more antioxidants then the green tea.
Coconut palm sugar
It is a healthier alternative to regular sugar.
Chia seeds
They are considered to be one of the best sources of omega-3 fatty acids, which help maintain normal blood cholesterol levels. They are high source of protein, which helps maintain and increase muscle mass and maintain healthy bones.
Why choose Nature's Finest oat porridge?

Nature's Finest oat porridge

Organically produced ingredients

No refined sugars added

Healthy blend with superfoods

No artificial flavours

Ingredients from conventional production

With refined sugar

No added superfoods

With artificial flavours
Robert
This oatmeal has been my breakfast for a long time, I love the flavour and I definitely recommend it!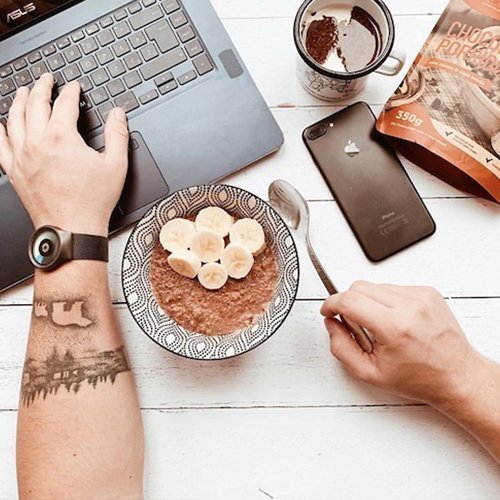 Rosie
This is a really healthy porridge, which fills me with energy for a productive day. It also regulates my digestion. Amazing product!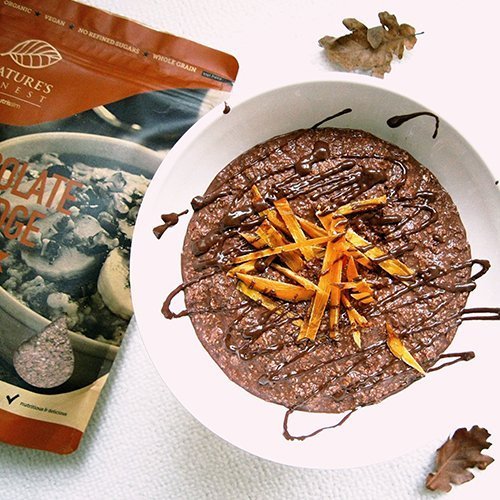 Alice
I use it as a snack at work. It is sooo tasty and ready in just few minutes.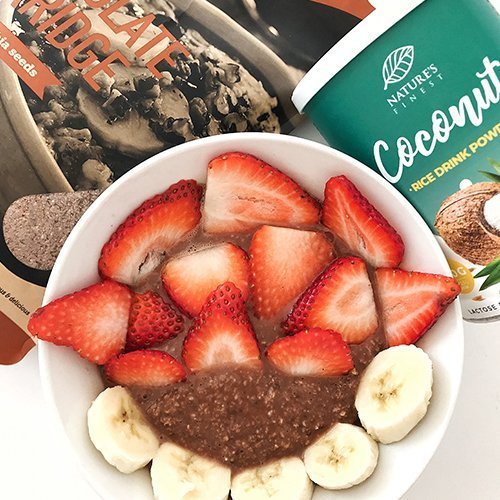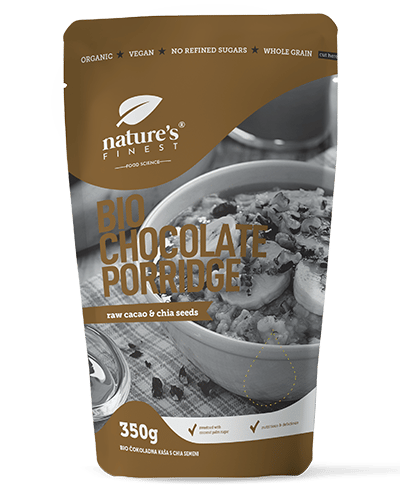 Bio Chocolate Porridge
Delicious porridge for a healthy and nutritious breakfast

100% organically produced

High source of dietary fibre

Rich chocolate flavour

Sweetened with coconut sugar

Suitable for vegans

Made with love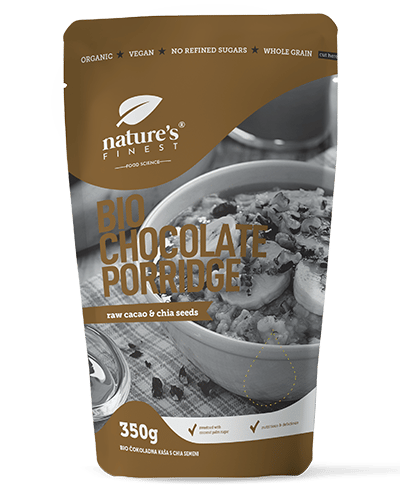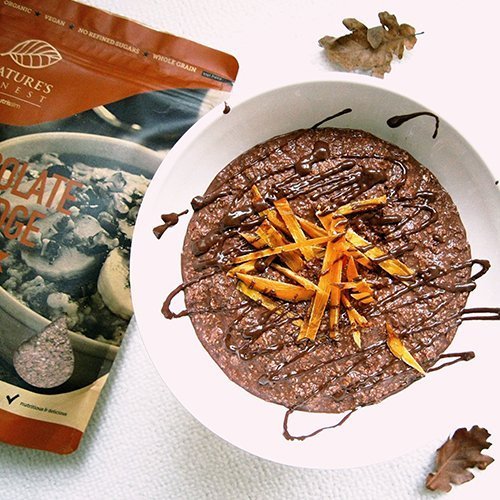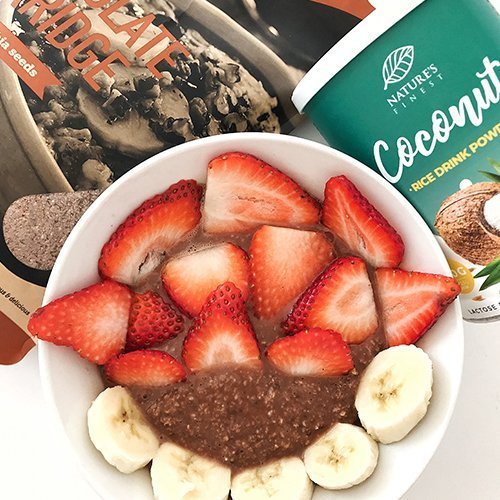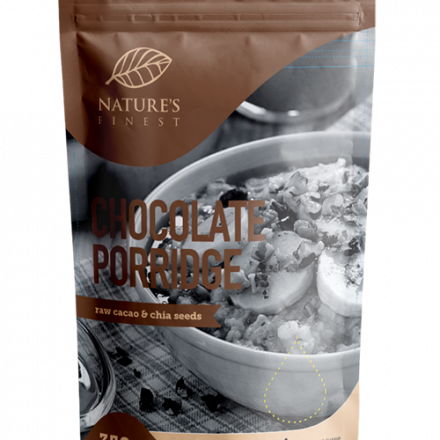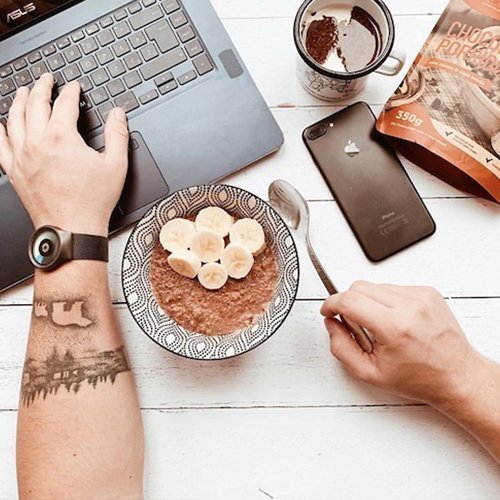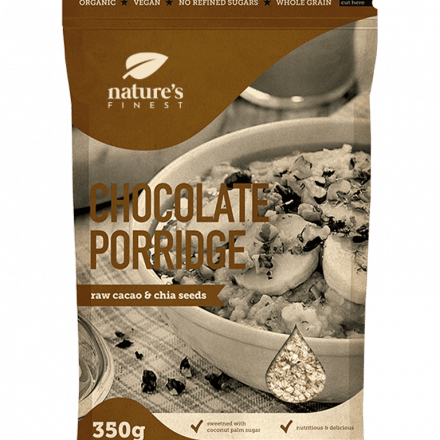 Bio Chocolate Porridge
Delicious porridge for a healthy and nutritious breakfast with raw cocoa and chia seeds.

100% organically produced
High source of dietary fibre
Rich chocolate flavour
With coconut sugar
Suitable for vegans
Made with love
100% purchase protection with the option of returning the product - no questions asked.
CUSTOMER REVIEWS





USAGE INSTRUCTIONS

Ingredients

Nutritional Values
USAGE INSTRUCTIONS

Mix with hot water or milk and wait for 2-3 minutes. Enjoy!

Warnings

The recommended daily amount must not be exceeded. The product is not a substitute for a balanced and varied diet.

Ingredients

Bio Chocolate Porridge

Ingredients: Oat bran (avena sativa)* (79%), cocoa (theobroma cacao) powder* (7%), coconut palm sugar (cocos nucifera)* (7%), chia seeds (salvia hispanica)* (7%) ). *Organic.

Contains gluten. May contain traces of peanuts, nuts, soy and sesame.

Nutritional Values

| | |
| --- | --- |
| | per 100 g |
| Energy | 1527 kJ / 364 kcal |
| Total fat | 9 g |
| from which saturated | 1,8 g |
| Carbohydrates | 49,4 g |
| from which sugars | 6,9 g |
| Dietary fibre | 15,7 g |
| Protein | 17,3 g |
| Salt | <0,1 g |

*NRV = Nutritional Reference Value
Only 45€ left till FREE DELIVERY
Special offer only here!
Add to your order and save!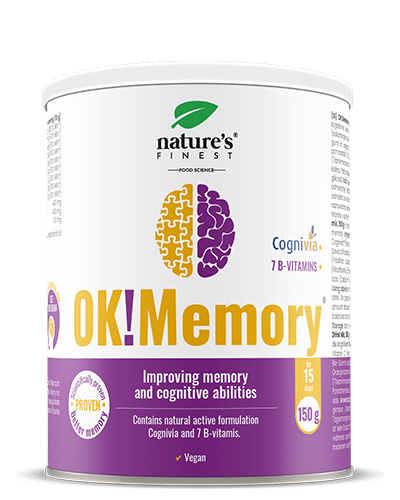 OK!Memory*
Improve concentration and memory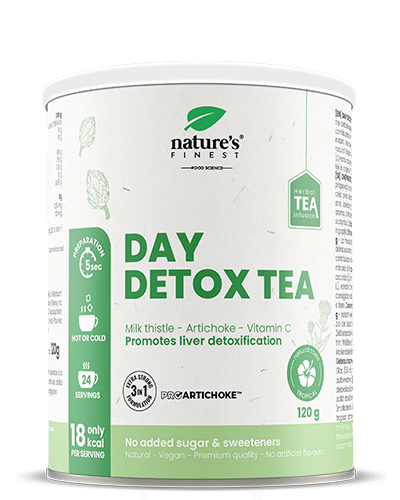 Day Detox Tea*
Natural tea blend with powerful healing herbs - white tea, milk thistle and artichoke extract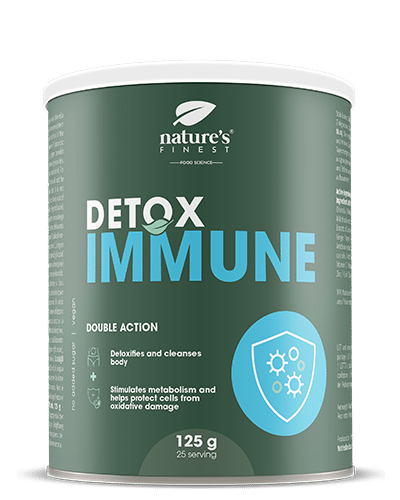 Detox Immune*
2-in-1 detox formula that cleanses the body and strenghtens your immune system