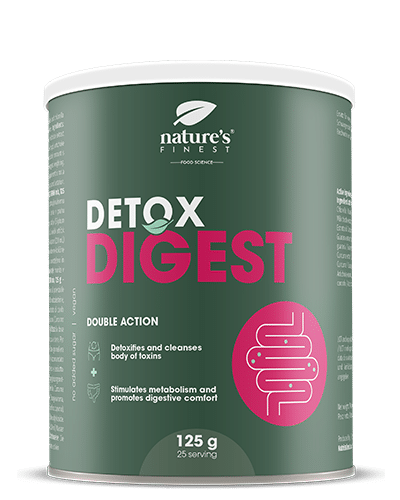 Detox Digest
2-in-1 digestion detox formula that helps improve digestion and cleanse the body
Triple detox power: milk thistle, artichoke extract and chlorella
Works in 2 steps: Removes toxins to lose weght & improves digestion
Stimulates metabolism and helps the digestive system
Promotes digestive comfort
Helps you lose excess weight
Contributes to the detoxification potential of the liver
Helps to remove heavy metals from the body
It promotes detoxification of the body
Has an anti-inflammatory effect
Detox your body and improve digestion
Net 125 g | for 25 days
14-day refund policy

Free delivery for orders over 50€

Delivery within 6-7 working days









HOW DOES IT WORK?
Milk thistle & artichoke extract
Milk thistle contributes to the detoxification potential of the liver and as well as artichokes, supports liver health. Artichokes have the ability to cleanse and detoxify the liver. In addition, they promote the loss of excess weight and take care of proper digestion.
Chlorella
Chlorella helps maintain the normal function of the colon, reduces irritation of the intestinal wall, promotes the growth of beneficial intestinal microflora, and removes toxic compounds from the body.
Curcuma & guarana extract
Guarana has a beneficial effect on digestion and promotes digestive comfort. Curcuma is a powerful anti-inflamatory.
Iva
I had digestive problems for a long time and didn't know what to do. Ever since I started on the digest detox my digestion has improved and I feel much better. Also lost 2 kg!
Angelika
With abusy lifestyle it's hard to aleays choose healthy food, best for my digestion. This detox has helped me to reset my system, the results are really noticable. I am always never bloated anymore.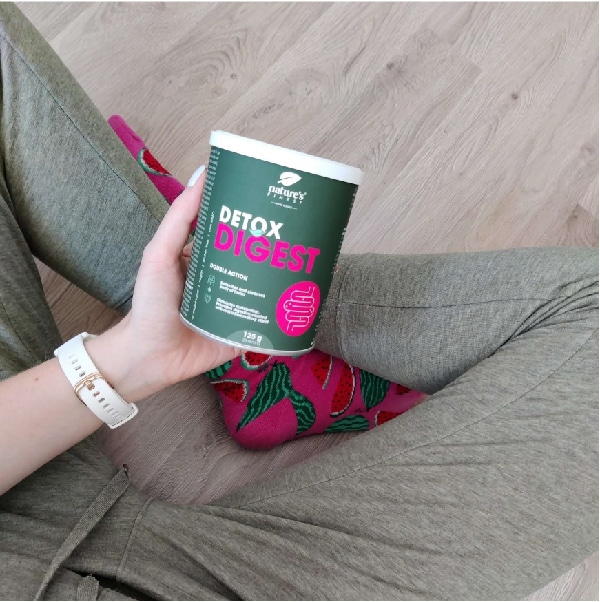 Lara
I went on this detox to help ge trid of the lower part of my stomach, that is just always bloated. I did have to go a full month, but now the results are really noticable. I feel like my digestion turned to normal, and I can eat the food I like again.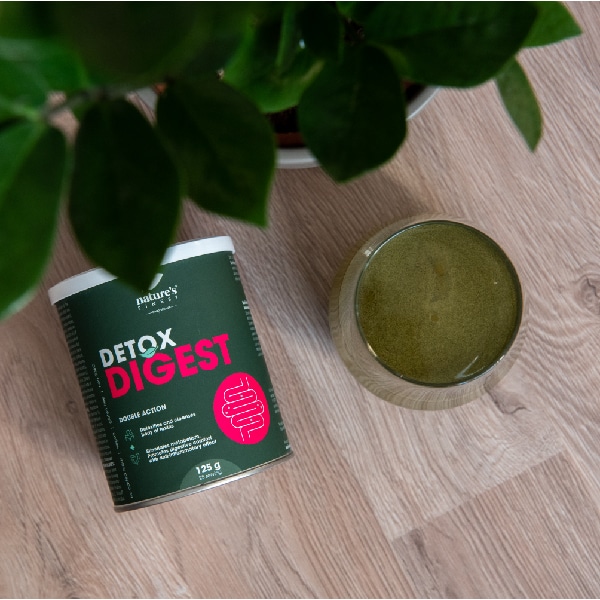 Regulated digestion is the key to well-being
Proper digestion allows our body to absorb essential nutrients for optimal functioning of the whole organism.
But because of our fast lifestyle, fast food and unbalanced diet – more and more of us have started to notice digestive issues, leading to waste accumulatation, uncomfortable bloating and gaining weight.
Reset your digestion and cleanse your body of built up waste!
With powerful natural detox ingredients the Detox Digest formula is designed to help you eliminate built up waste from your system, improve your digestion and get rid of that uncomfortable feeling in your gut.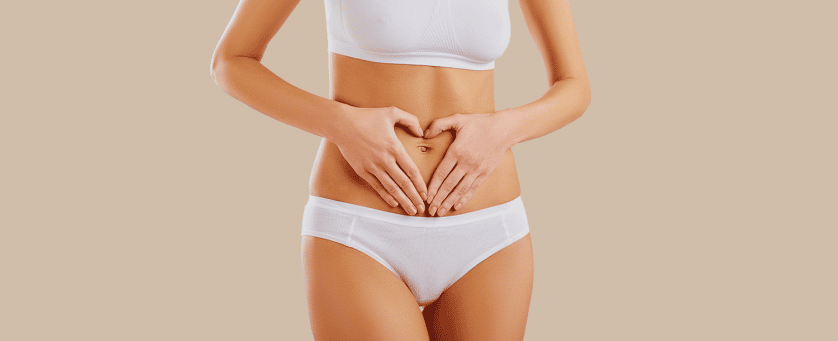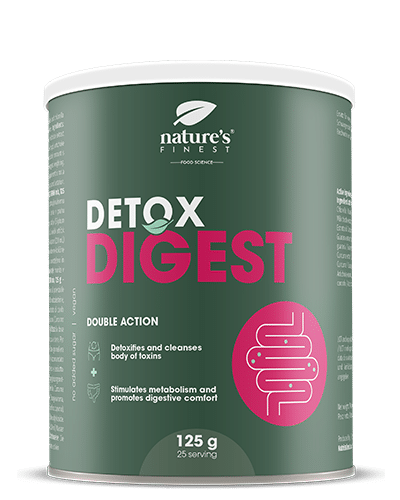 Detox Digest
The ultimate 2-in-1 digestion detox

Stimulates metabolism and helps the digestive system

Helps you lose excess weight

Contributes to the detoxification potential of the liver

Promotes digestive comfort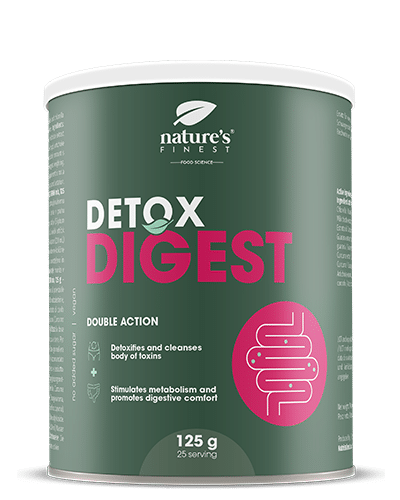 Detox Digest
2-in-1 digestion detox formula that helps improve digestion and cleanse the body
Triple detox power: milk thistle, artichoke extract and chlorella
Works in 2 steps: Removes toxins to lose weght & improves digestion
Stimulates metabolism and helps the digestive system
Promotes digestive comfort
Helps you lose excess weight
Contributes to the detoxification potential of the liver
Helps to remove heavy metals from the body
It promotes detoxification of the body
Has an anti-inflammatory effect
Detox your body and improve digestion
100% purchase protection with the option of returning the product - no questions asked.
CUSTOMER REVIEWS





USAGE INSTRUCTIONS

Ingredients

Nutritional Values
USAGE INSTRUCTIONS

Mix 1 scoop (5 g) in a glass of water (200 mL) and drink.

Warnings

The recommended daily amount or dose must not be exceeded. A nutritional supplement is not a substitute for a balanced and varied diet. Pregnant women and nursing mothers are not advised to use it.

Store in a dry and cool place. Keep out of reach of children!

Ingredients

Detox Digest – diatary supplement with sweetener

Ingredients: maltodextrin, chlorella powder (Chlorella vulgaris), natural orange flavor, stabilizer: cellulose, milk thistle extract (Silybum marianum L.), guarana extract (Paullina cupana), curcuma extract (Curcuma longa), artichoke extract (Cynara scolymus L.), sweetener steviol glycosides.

Nutritional Values

| | |
| --- | --- |
| | Per portion (5 g) |
| Chlorella | 250 mg |
| Milk thistle extract | 100 mg |
| Guarana extract | 50 mg |
| Curcuma extract | 25 mg |
| Artichoke extract | 12,5 mg |

* NRV = dietary reference value
Only 45€ left till FREE DELIVERY
Special offer only here!
Add to your order and save!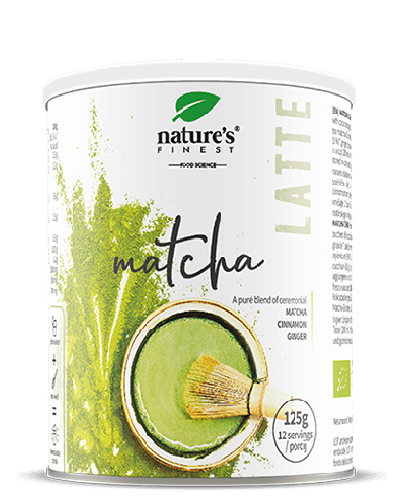 Matcha Chai latte*
A natural alternative to coffee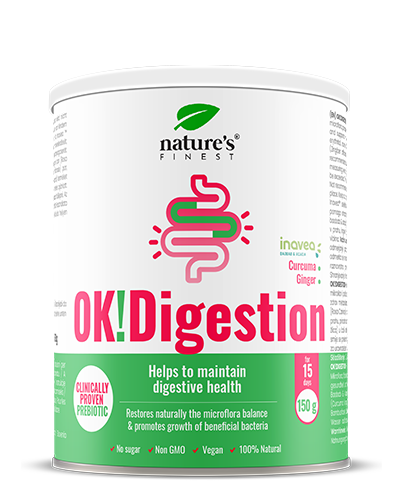 OK!Digestion*
An effective formula for restoring the natural balance of microflora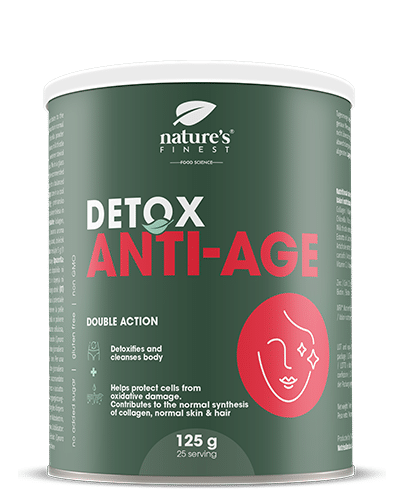 Detox Anti-Age*
A 2-in-1 beauty detox formula that helps cleanse the body and prevent oxidative damage to cells