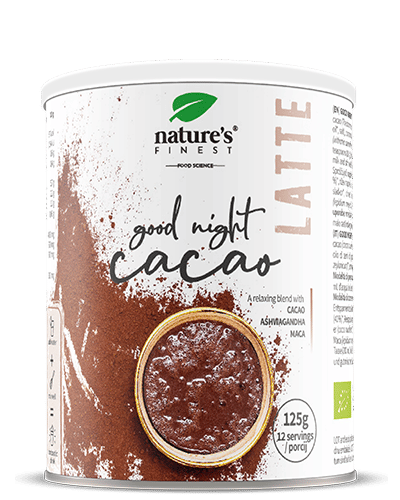 Good night latte
COCOA DRINK FOR RELAXING AND BETTER WELL-BEING
Helps maintain vitality
With the power of ashwagandha, which helps relax
Supports emotional balance
Helps in adapting the body to stress
Without artificial sweeteners or flavours
Net 125 g | for 14 days
14-day refund policy

Free delivery for orders over 50€

Delivery within 6-7 working days









FOR NATURAL RELAXATION AND MORE ENERGY
Good night latte is a cocoa-flavoured drink with Ashwagandha's calming effect, enriched with maca, spiced with cinnamon and rice milk powder.
This drink supports emotional balance and general well-being, helps the body with stress adaptation, helps relax and maintains vitality.
We can consume it to relax before bed, or during the day for more energy. 
100% NATURAL AND EFFECTIVE INGREDIENTS
COCOA
Organically produced raw cocoa gives a divine aroma for all of you who have a sweet tooth! It is a source of magnesium and iron, which help reduce fatigue, and a source of zinc, which protects cells from oxidative stress.
ASHWAGANDHA
Ashwagandha, known as a miracle herb from the Himalayas, provides relaxation and adaptation of the body to stress. It helps with emotional balance and overall well-being and helps maintain energy levels.
MACA
Maca is a root that supports vitality, raises energy levels and has a beneficial effect on fertility.
CINNAMON
Cinnamon is a spice with a mind-blowing aroma and many benefits to our health. It supports digestion, contributes to a more energetic well-being and helps maintain healthy blood glucose levels.
Why use Good Night Latte for better sleep?

Natural and organic ingredients
Natural support to health
Constant consumption means better effects
Without additives or fillers

Often with synthetic ingredients
Constant consumption is not recommended
With artificial fillers
Melanie
This is definitely my new evening ritual. It helps me relax, plus it tastes yummy! I recommend :)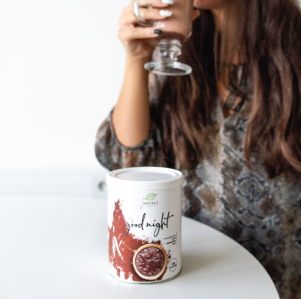 Olivia
I used to drink only maca with rice milk, but it is much better in combination with cocoa. I recommend it to anyone who wants to pamper themselves a little more.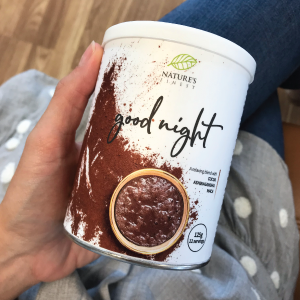 Monica
Lately I had trouble falling asleep and I couldn't relax at all. When I tried this healthy cocoa for I noticed a big difference the first night, I fell asleep almost immediately!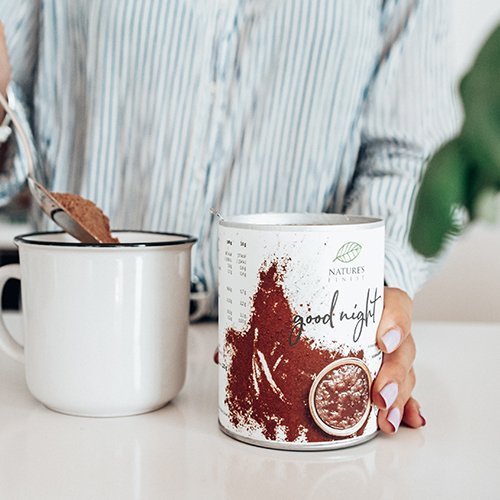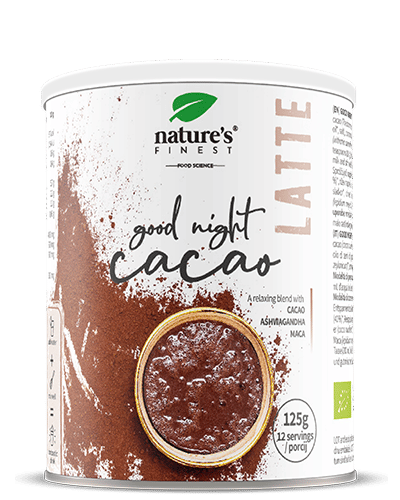 Good night latte
Healthy cocoa drink to relax after a stressful day.

Helps with emotional balance

Helps maintain vitality

Helps in adapting the body to stress

With proven active ingredients

No artificial sweeteners or flavours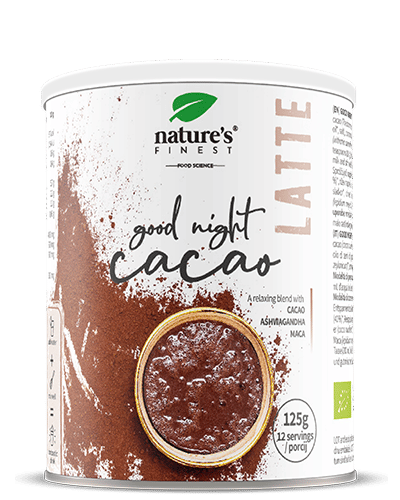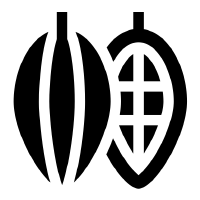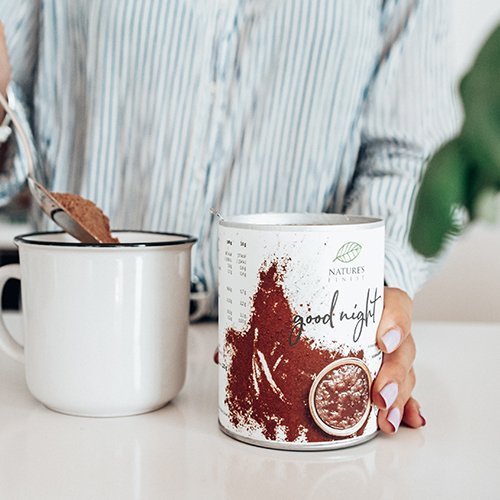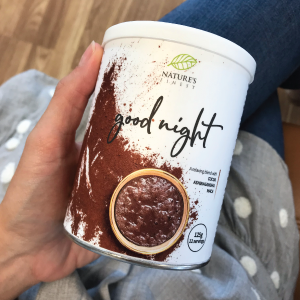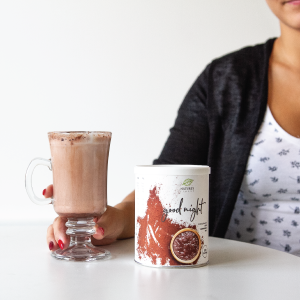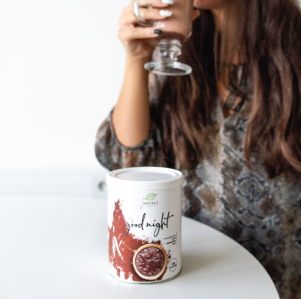 Good night latte
COCOA DRINK FOR RELAXING AND BETTER WELL-BEING
Helps maintain vitality
With the power of ashwagandha, which helps relax
Supports emotional balance
Helps in adapting the body to stress
Without artificial sweeteners or flavours
100% purchase protection with the option of returning the product - no questions asked.
CUSTOMER REVIEWS





USAGE INSTRUCTIONS

Ingredients

Nutritional Values
USAGE INSTRUCTIONS

The recommended daily dose is 10 g (2 tablespoons). Put in a cup (250 mL) of water or plant-based drink and mix well to make a foam.

Warnings

The recommended daily amount must not be exceeded. The product is not a substitute for a balanced and varied diet.

Ingredients

Good Night latte

Ingredients: Cocoa powder* (40%), Rice powder drink* (rice*, oat beta-glucans, sunflower oil*, salt), coconut sugar*, cinnamon*, ashwagandha*, maca*. * Organic

Nutritional Values

| | | |
| --- | --- | --- |
| | per 100 g | per portion (10 g) |
| Energy | 367 kcal / 1536 kJ | 37 kcal / 154 kJ |
| Total fat | 5,9 g | 0,6 g |
| from whcich saturated | 3,7 g | 0,4 g |
| Carbohydrates | 56,6 g | 5,7 g |
| from which sugars | 21,5 g | 2,2 g |
| Protein | 10,5 g | 1,1 g |
| Salt | 0,3 g | 0,03 g |

* NRV = Nutritional Reference Value
Only 45€ left till FREE DELIVERY
Special offer only here!
Add to your order and save!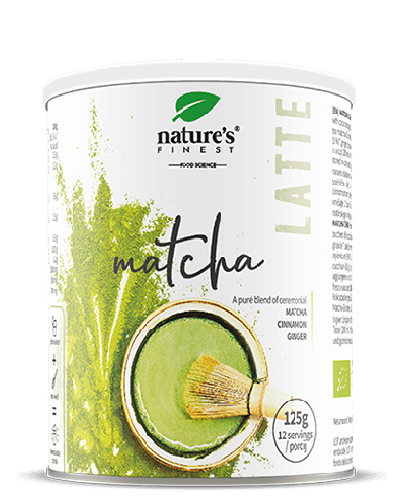 Matcha Chai latte*
A natural alternative to coffee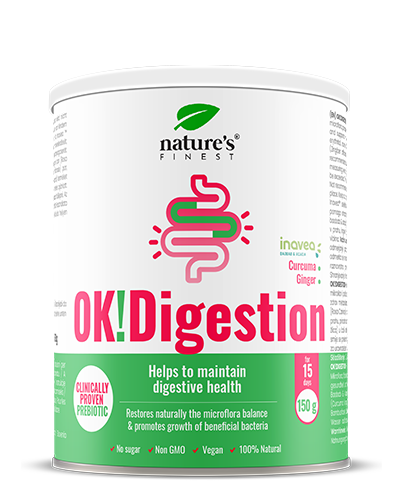 OK!Digestion*
An effective formula for restoring the natural balance of microflora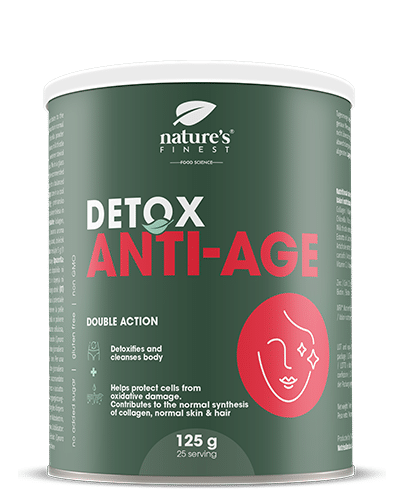 Detox Anti-Age*
A 2-in-1 beauty detox formula that helps cleanse the body and prevent oxidative damage to cells