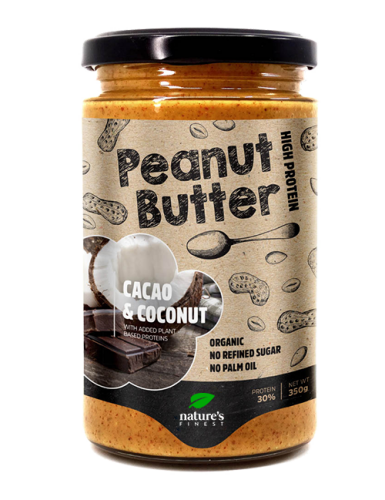 Bio Cacao & Coconut Peanut Butter
Natural peanut butter enriched with vegan protein, raw cocoa and coconut
Amazing flavour
Enriched with vegan protein - 25 g per 100 g!
No refined sugar
No palm oil
An abundant source of dietary fibre
Net 350 g | for 30 days
14-day refund policy

Free delivery for orders over 50€

Delivery within 6-7 working days









THE FAVOURITE SNACK JUST BECAME HEALTHIER!
Nature's Finest peanut butter is made from 100% natural roasted peanuts and, unlike other products, does not have added salt, sugars, palm oil or preservatives.
For a delicious choco-coconut flavour and the perfect combination of smooth and crispy texture, we added cocoa powder and coconut pieces to the peanut butter, which will undoubtedly satisfy the needs of all chocoholics.
We also enriched it with plant protein, so we take care of the growth and maintenance of muscle mass. It is an excellent source of dietary fibre and healthy fats.
No matter what your goals are, it's a nutritious, delicious and healthy snack for any time of the day, especially when you crave sweets, but this time without regrets -  just pure love in a jar!
So good, that you want to eat it directly with a spoon!
ONLY 100% NATURAL INGREDIENTS
PEANUT BUTTER
100% peanut butter from organically produced peanuts.
COCONUT OIL
Extra virgin and cold pressed coconut oil that helps maintain normal cholesterol levels.
AGAVE SYRUP
Agave syrup is a natural sweetener, similar to honey, that adds a sweet taste without the negative health effects.
PROTEIN MIXTURE
Organically grown pea protein, rice protein, ground chia and ground quinoa.
COCONUT
Organically produced coconut flour for a fresh taste.
CHOCOLATE
Organically produced dark chocolate chips with 70% cocoa, for a pleasant texture and delicious taste!
Why choose Nature's Finest peanut butter?

Nature's Finest peanut butter

Only organically produced ingredients
Without palm oil
No added sugar or salt
Without additives

Natural but not organic ingredients
With palm oil
With added sugar and salt
With additives
Lucy
The best peanut butter I have EVER tried. Especially because of the delicious combination of chocolate and coconut,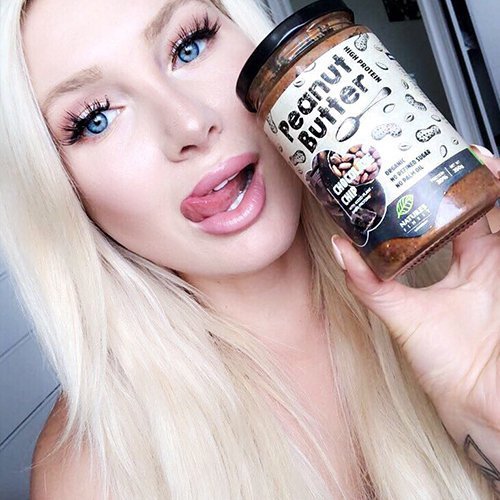 Jennifer
Peanut butter has always been my favourite spread, other peanut butters just can not compare to this one. The taste is really phenomenal!
Anna
Best peanut butter I have ever tried. Just a perfect combination of smooth and crunchy texture.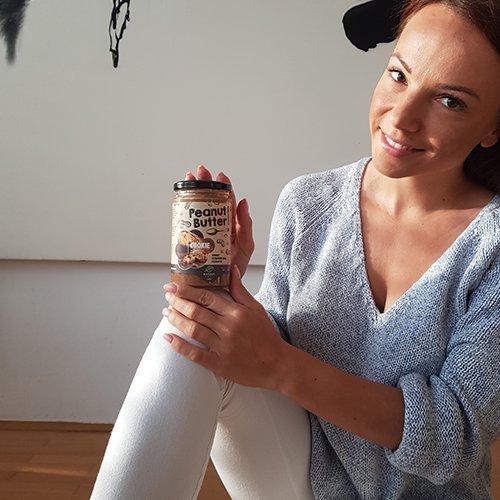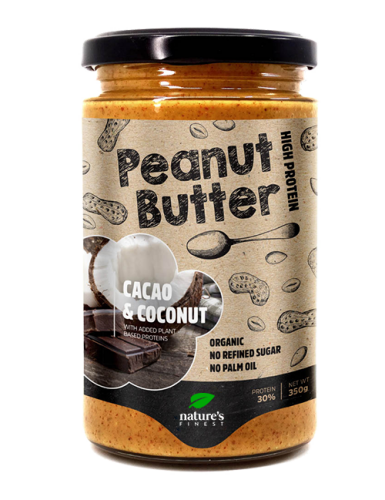 Bio Cacao & Coconut Peanut Butter
100% natural peanut butter with chocolate and coconut!

Amazing flavour

Enriched with plant protein

25g of protein per 100g

No refined sugar

No palm oil

High source of dietary fibre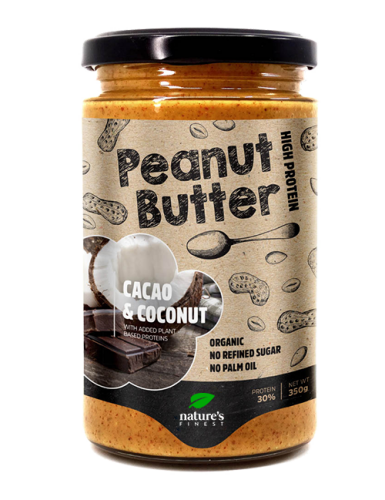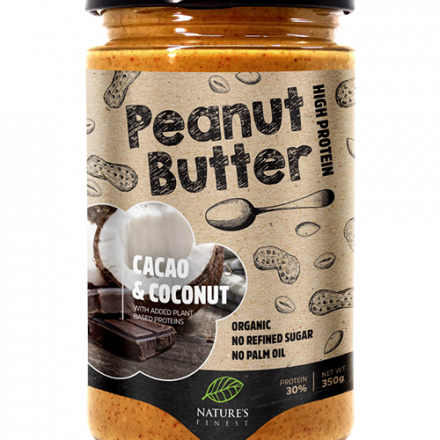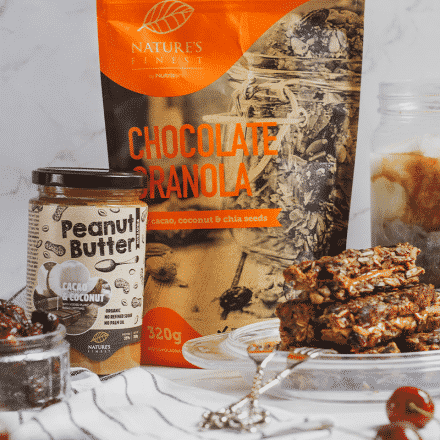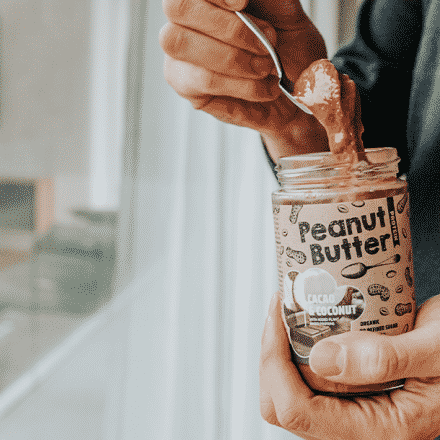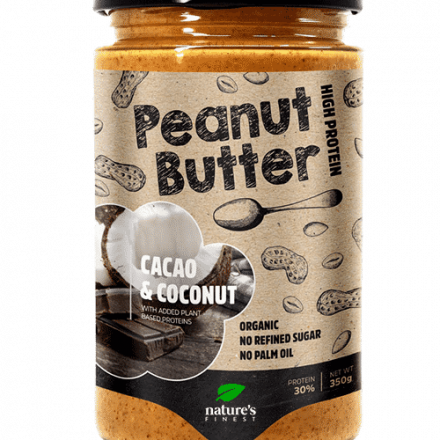 Bio Cacao & Coconut Peanut Butter
Natural peanut butter enriched with vegan protein, raw cocoa and coconut
Amazing flavour
Enriched with vegan protein - 25 g per 100 g!
No refined sugar
No palm oil
An abundant source of dietary fibre
100% purchase protection with the option of returning the product - no questions asked.





USAGE INSTRUCTIONS

Ingredients

Nutritional Values

CUSTOMER REVIEWS (

0

)
USAGE INSTRUCTIONS

Peanut butter can be used as a spread on a slice of bread, pancakes, also in smoothies or various desserts. The recommended daily amount is 2 tablespoons (20 g).

Warnings

The recommended daily amount should not be exceeded. The product is not a substitute for a balanced and varied diet.

Ingredients

Bio Cacao and Coconut Peanut Butter

Ingredients: Roasted peanuts*, coconut oil*, agave syrup*, protein mixture* (pea protein powder*, rice protein powder*, chia powder* (Salvia hispanica), quinoa powder* (Chenopodium quinoa)), coconut flour* (2%), chocolate with 70% cocoa (cocoa*, sugar*, cocoa butter*, soy lecithin) (2%), cocoa powder* (1%). *Organic.

Contains peanuts and soy. May contain traces of gluten, nuts and sesame.

Nutritional Values

| | |
| --- | --- |
| | per 100g |
| Energy | 2485 kJ / 599 kcal |
| Total fat | 47 g |
| from which saturated | 17 g |
| Carbohydrates | 15,6 g |
| from which sugars | 7,6 g |
| Dietary fibre | 7,6 g |
| Protein | 25 g |
| Salt | 0,1 g |

* NRV = Nutritional Reference Value

CUSTOMER REVIEWS (

0

)
Only 45€ left till FREE DELIVERY
Special offer only here!
Add to your order and save!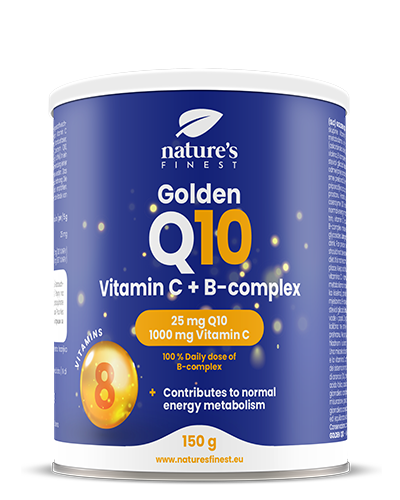 Golden Q10
Revolutionary formula with coenzyme Q10, vitamin C and B-complex for protection against oxidative damage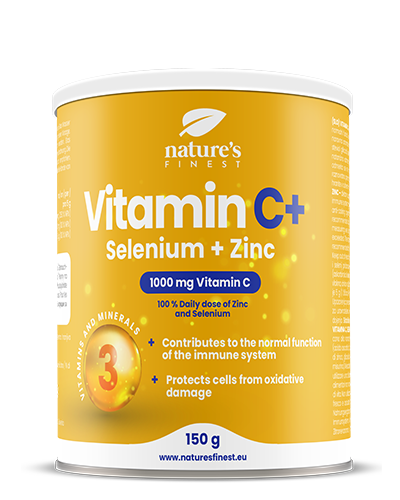 Vitamin C + Selenium + Zinc*
Revolutionary formula with vitamin C, selenium and zinc for strong immune system!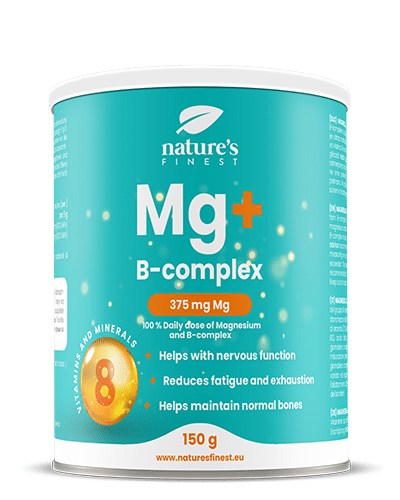 Magnesium + B-complex
A revolutionary formula with magnesium and B vitamins to reduce fatigue and exhaustion