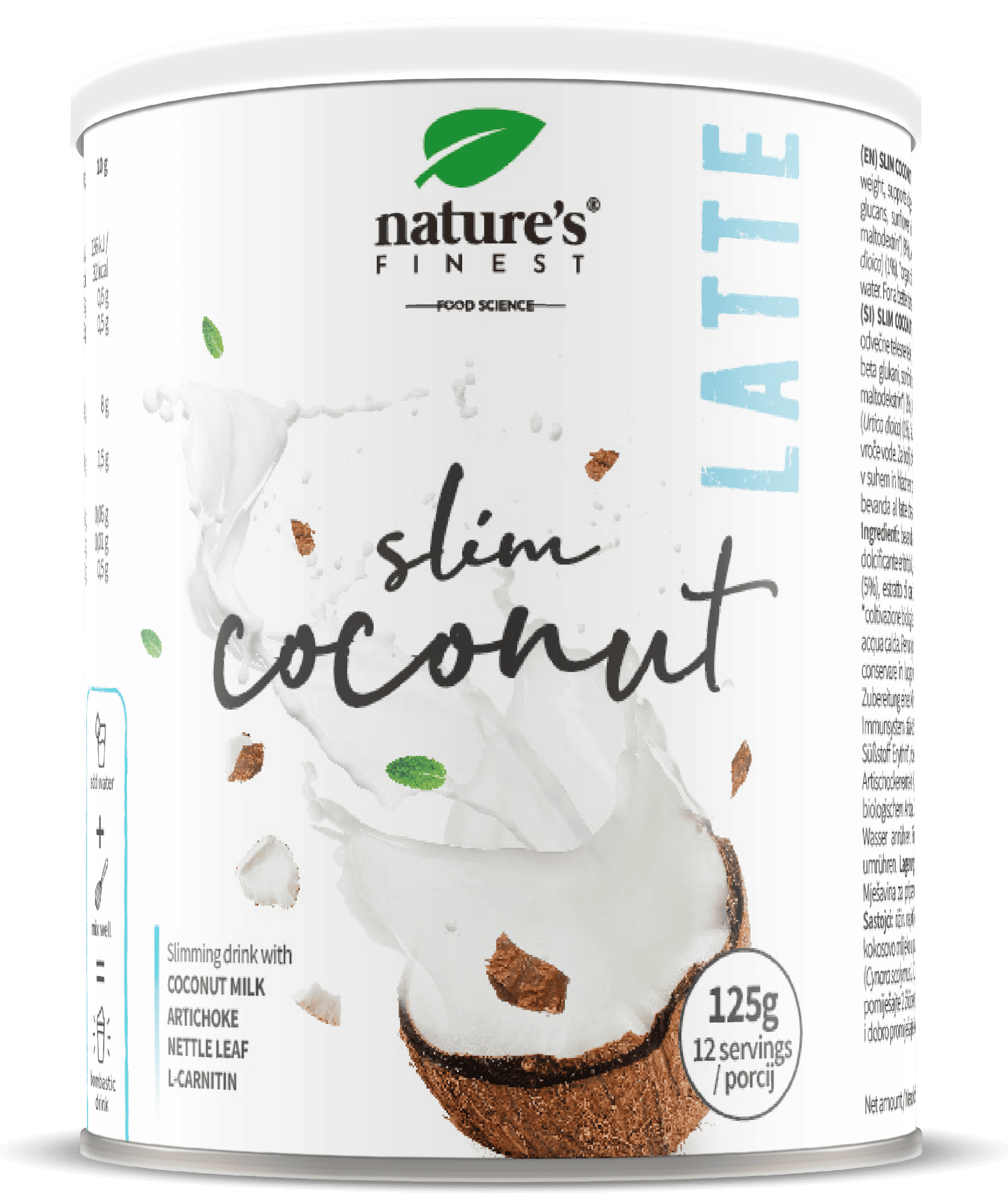 Coconut Slim Latte
Delicious slimming latte with 3-in-1 weight loss action
Enjoy a delicious coconut latte and lose excess weight
With nettle extract, artichoke extract and L-carnitine
Has the ability to cleanse and detoxify the liver
Helps you to lose excess weight
Supports digestion
It supports the immune system
Supports normal glucose metabolism
The minerals in nettle help strengthen bones, nails and hair
Net 125 g
14-day refund policy

Free delivery for orders over 50€

Delivery within 6-7 working days









100% natural ingredients
L-carnitine
L-carnitine is an amino acid that is crucial for fat metabolism, as it ensures the transfer of long-chain fatty acids to the mitochondria, where they are converted into energy.
Nettle extract
Nettle is one of the best-known medicinal plants and it helps to strengthen the immune system, helps to improve energy well-being, supports vitality and blood circulation.
Artichoke extract
Artichokes support liver health. They have the ability to cleanse and detoxify the liver. They encourage the elimination of excess weight and take care of proper digestion.
Rebeka
I felt like I needed a little reset since I wasn't feeling so good. My digestion wasn't the best and I was always tired. I can say this detox latte helped me to get started, it's a convenient way to get in some green superfoods and it also helped me to stay on track with heatier diet choices.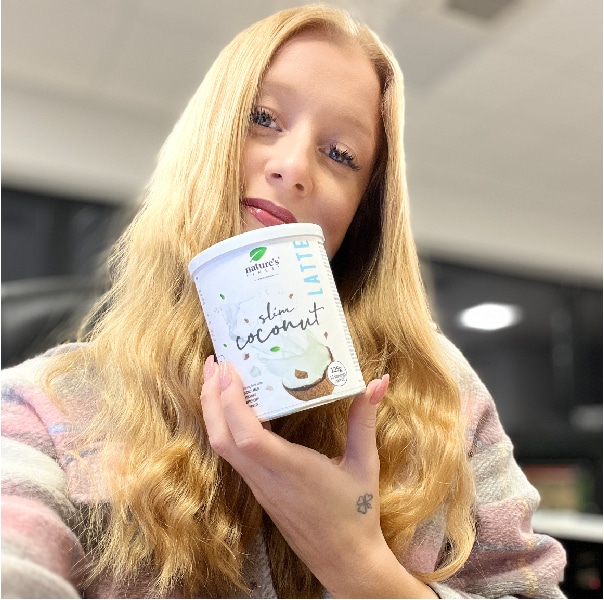 Katja
I would say that I drink a lot of coffee, but this coconut slim latte has helped me to cut down, and I can say that I feel great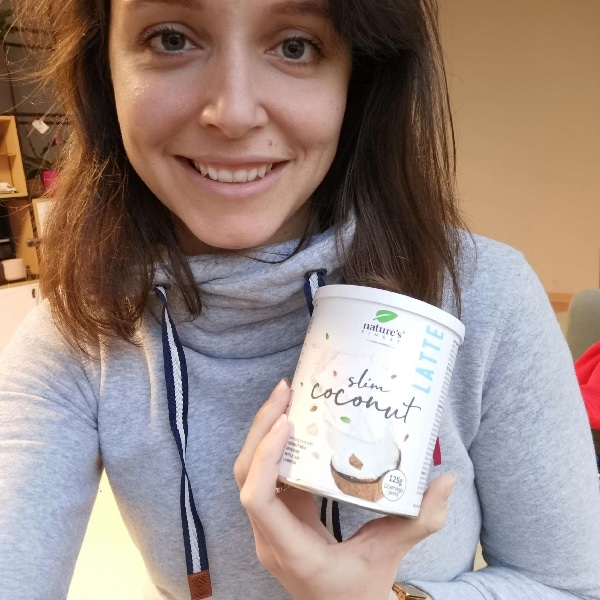 Neža
Ever since I started drinking this fat burning latte I feel lighter and my digestion is better. I'm not tracking my weight but my coworker said I look skinnier, so I'm happy! :)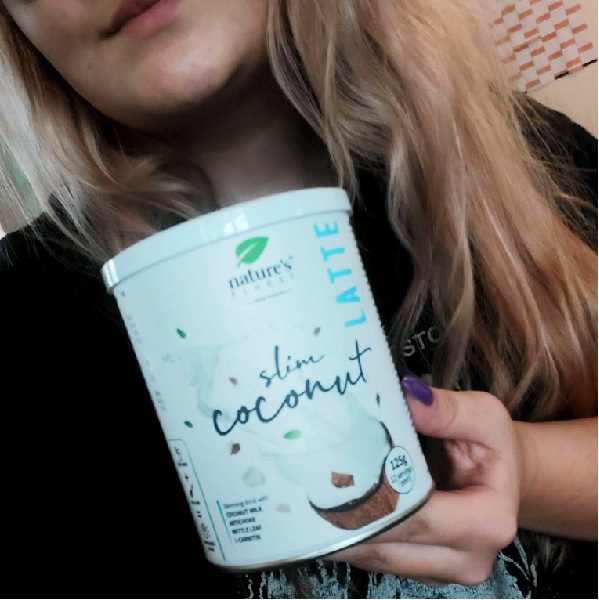 Coconut Slim Latte is perfect for you, if..
you lack motivation for a healthier lifestyle,
you struggle with excess weight,
you want to speed up your metabolism,
improve digestion,
and shape your body!
Accelerate weight loss and improve your energy with coconut slim latte!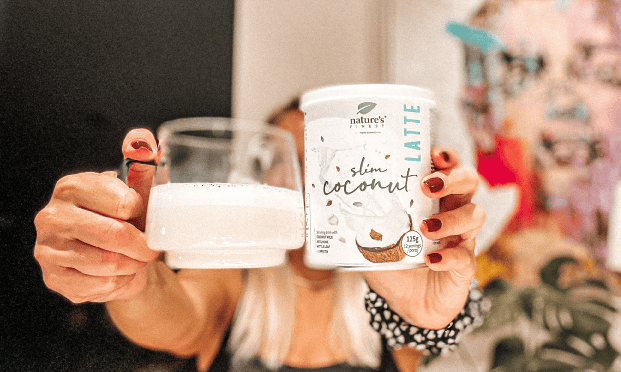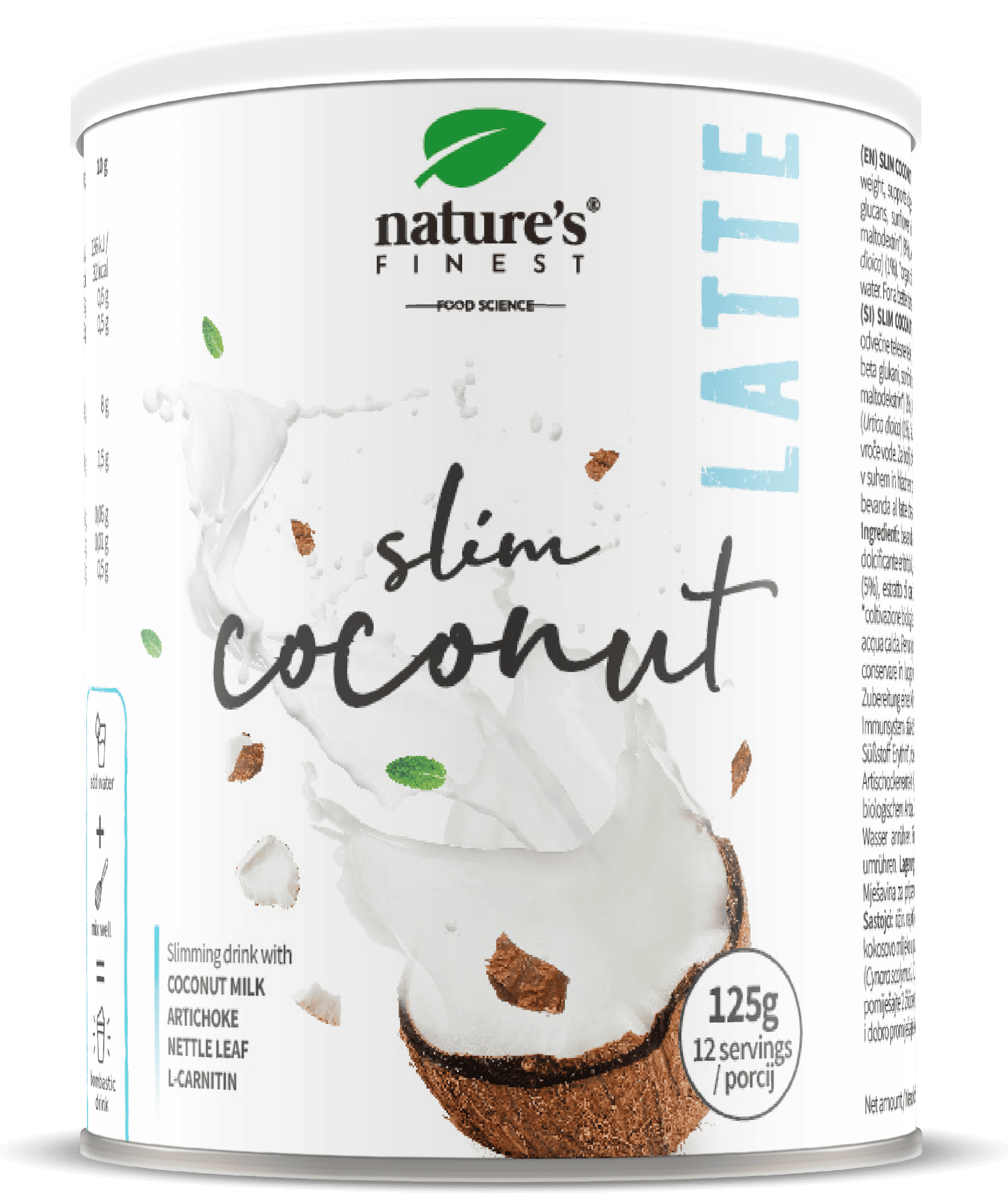 Coconut Slim Latte
3-in-1 weight loss latte

Easy and quick to prepare

Delicious natural coconut flavor

Lactose free, vegan

Helps you to lose excess weight and improve digestion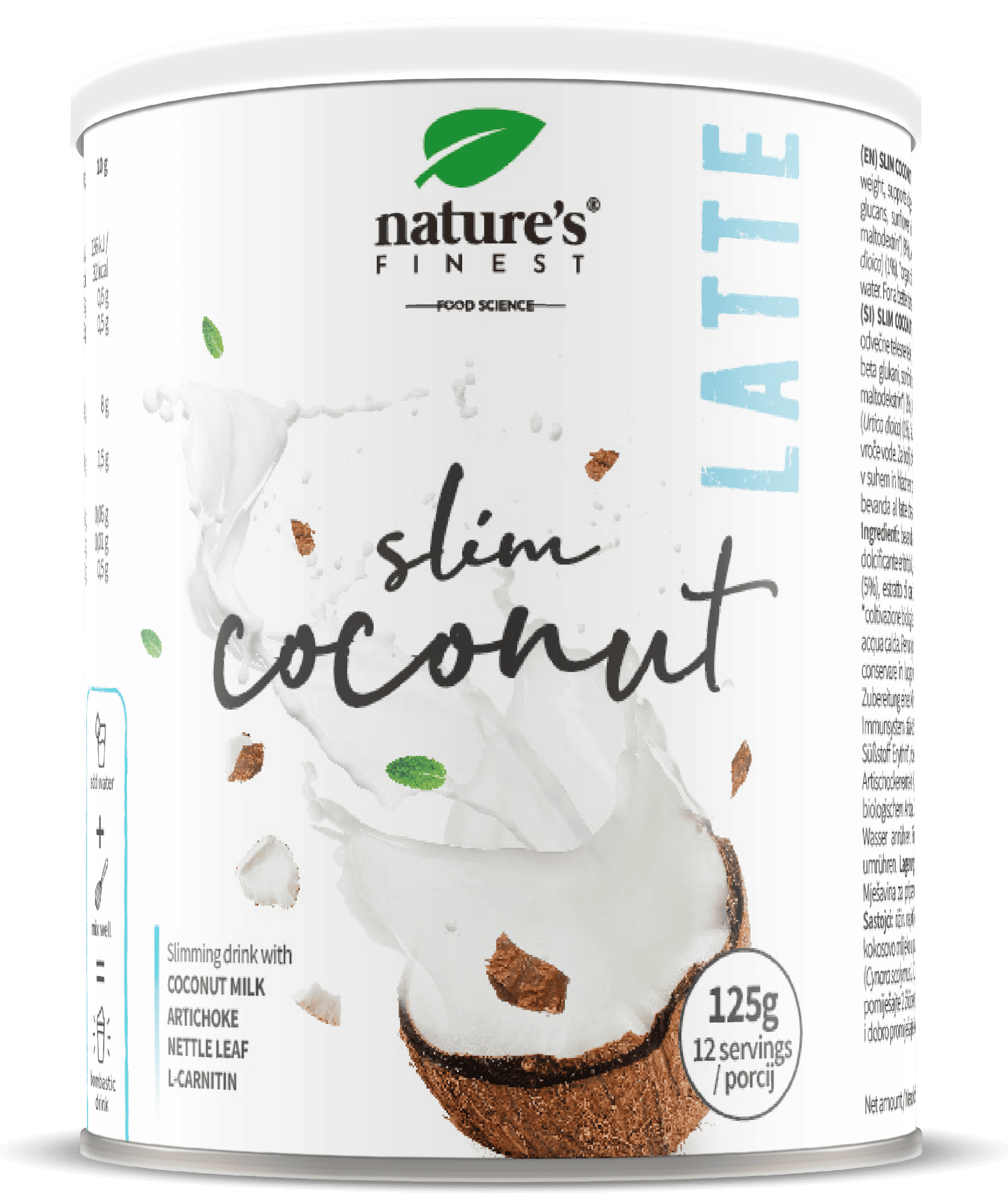 Coconut Slim Latte
Delicious slimming latte with 3-in-1 weight loss action
Enjoy a delicious coconut latte and lose excess weight
With nettle extract, artichoke extract and L-carnitine
Has the ability to cleanse and detoxify the liver
Helps you to lose excess weight
Supports digestion
It supports the immune system
Supports normal glucose metabolism
The minerals in nettle help strengthen bones, nails and hair
100% purchase protection with the option of returning the product - no questions asked.





USAGE INSTRUCTIONS

Ingredients

Nutritional Values

CUSTOMER REVIEWS (

0

)
USAGE INSTRUCTIONS

Mix 2 teaspoons (10 g) of powder in a cup (200 mL) of hot water. For a better taste add a bit of plant-based milk and stir well.

Warnings

The recommended daily amount or dose must not be exceeded. A nutritional supplement is not a substitute for a balanced and varied diet. Pregnant women and nursing mothers are not advised to use it. Store in a dry and cool place. Keep out of reach of children!

Ingredients

Cocnut slim latte

Ingredients: rice drink powder*, sweetener erythritol*, coconut milk powder*, L-carnitine, artichoke extract (Cynara scolymus L. ), nettle leaf extract (Urtica dioica ). *Organic

Nutritional Values

| | |
| --- | --- |
| Nutritional values | Per 100 g |
| Energy | 1365kJ/326kcal |
| Fat | 6 g |
| Saturated fat | 5,3 g |
| Carbohydrate | 83 g |
| Sugar | 15 g |
| Protein | 0,6 g |
| Salt | 0,1 g |
| | |
| L-carnitine | 5 g |

* NRV = nutritional reference value

CUSTOMER REVIEWS (

0

)
Only 45€ left till FREE DELIVERY
Special offer only here!
Add to your order and save!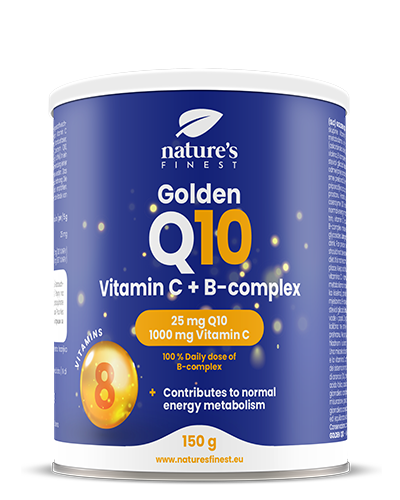 Golden Q10
Revolutionary formula with coenzyme Q10, vitamin C and B-complex for protection against oxidative damage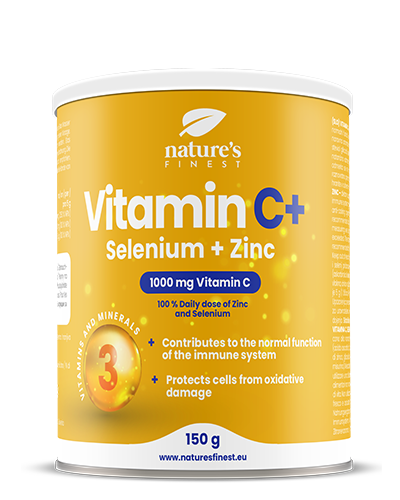 Vitamin C + Selenium + Zinc*
Revolutionary formula with vitamin C, selenium and zinc for strong immune system!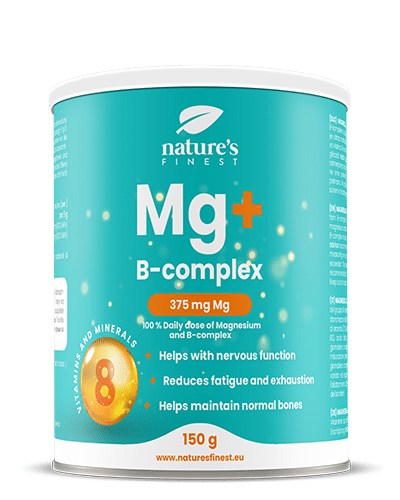 Magnesium + B-complex
A revolutionary formula with magnesium and B vitamins to reduce fatigue and exhaustion