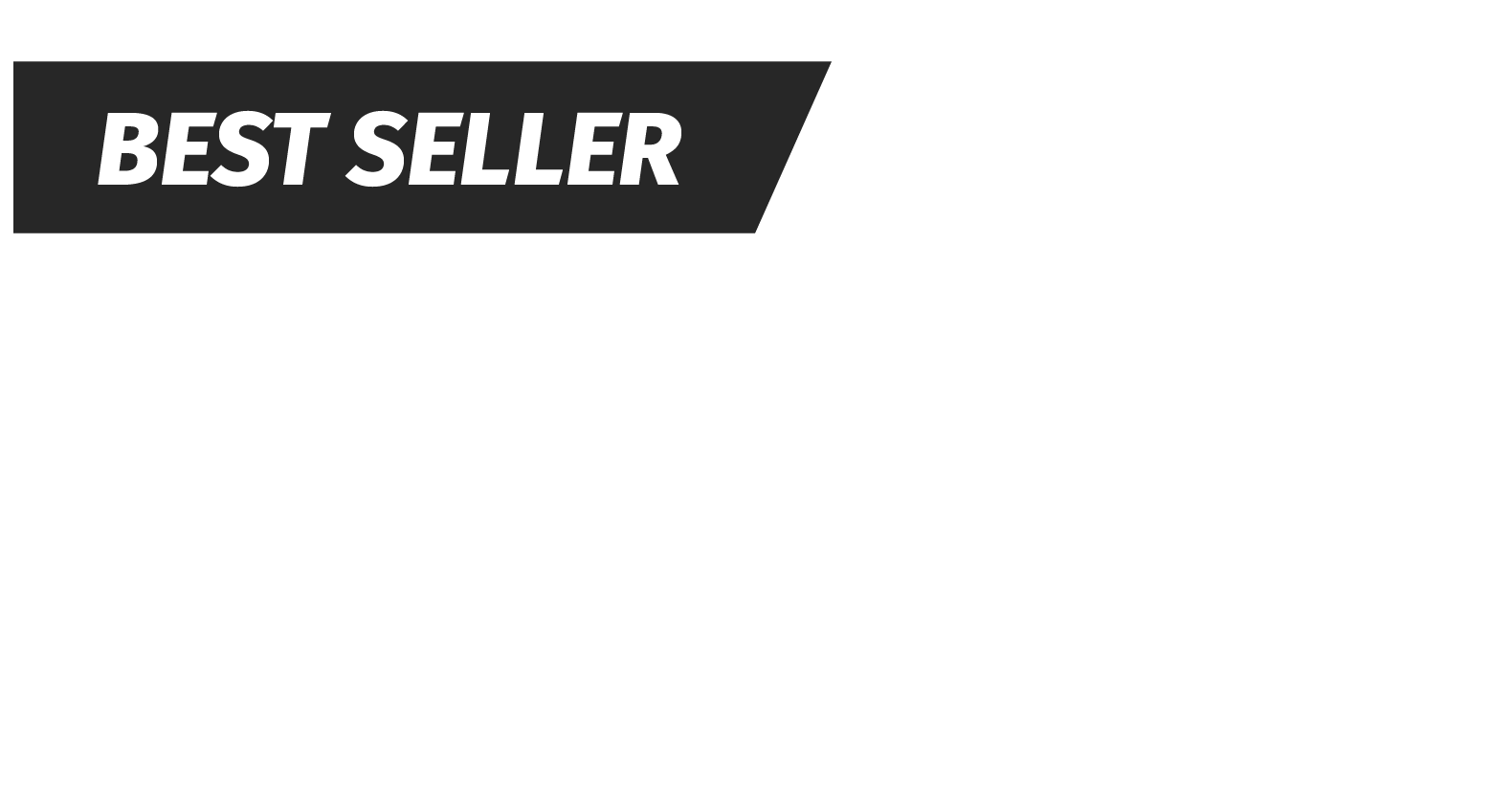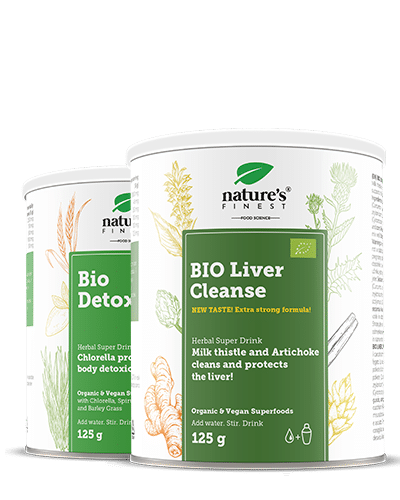 Healthy Liver bundle
dietary supplement
NATURAL LIVER CLEANSE PROGRAM
Prevents the accumulation of fat around the liver
Promotes detoxification of the body
For better digestion
Helps maintain vitality
Helps maintain lung health
Supports heart health
For better well-being and more energy
Net 250 g | for 25 days
14-day refund policy

Free delivery for orders over 50€

Delivery within 6-7 working days









STUBBORN BELLY FAT IS A RESULT OF FATTY LIVER
Are you also among those who, despite regular exercise, giving up unhealthy food and an active lifestyle, can not get rid of the belly fat?
Maybe it is time to cleanse your liver.
As much as 30% of the people face this problem!
It was believed that only people who resort to excessive consumption of alcohol, might have liver problems.
Despite that, medicine for a very long time understands that this is not always the case.
Unhealthy diet, lack of exercise, consumption of alcohol, smoking, lack of sleep and daily stress are among the main factors for the problem that every third Brit faces!
The awful thing is that most of us are not even aware that fatty liver is the cause of our problems.
HEALTHY LIVER BUNDLE 
Your solution for natural liver regeneration and detoxification!
WHY DOES IT WORK?
MILK THISTLE
Milk thistle is an herb known for its detoxifying effects and it is essential in the fight against the fat around the liver. It effectively cleanses the body and supports a healthy digestion, so it is excellent anti-constipation agent.
SCHISANDRA
Schisandra is a Chinese herb used in traditional medicines as an herbal tonic for the whole body. It cleanses and protects the liver, which has a huge effect on liver health.
ARTICHOKES
Artichokes are great for preventing fatty liver. They have the ability to cleanse and detoxify the liver. In addition, they help you lose weight and promote regular digestion. 
WHEATGRASS
Organically grown and carefully dried wheatgrass is a natural source of micronutrients such as vitamin C, vitamin A, zinc, calcium and iron.
CHLORELLA
Chlorella algae is named after the huge amount of chlorophyll, as it contains more per gram than any other plant. It helps maintain the normal functioning of the large intestine, reduces irritation of the intestinal wall, increases the growth of beneficial intestinal microflora and eliminates toxins from the body.
How do I recognize a fatty liver?

No excess fat on the abdomen
Regulated digestion without bloating
Sufficient energy
Normal sweating
Healthy skin without itching

Accumulation of fat around the abdomen
Severe bloating
Fatigue or exhaustion
Excessive sweating
Itching and skin redness
Emma
Even though I rarely recommend anything, I must admit, I am really satisfied with your detox package. Finally, normal digestion and great well-being.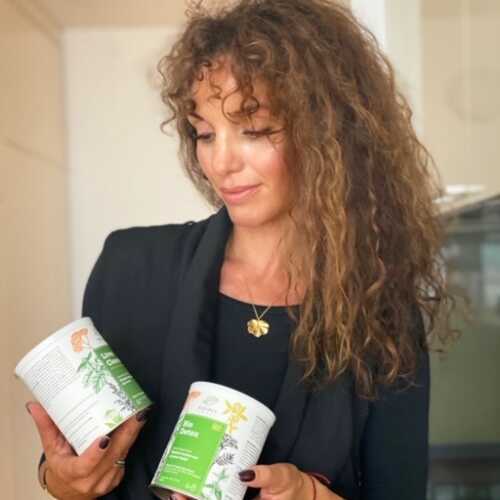 Patrick
Guaranteed better well-being and more energy. Firstly, I ordered the package for my mom, because of her poor nutrition and too little exercise. After the amazing results, I decided to use it as well. Visible improvement of well-being after only 10 days!
Sarah
I feel so much better! I ordered the package 10 days ago and I am already feeling the positive effects on my digestion.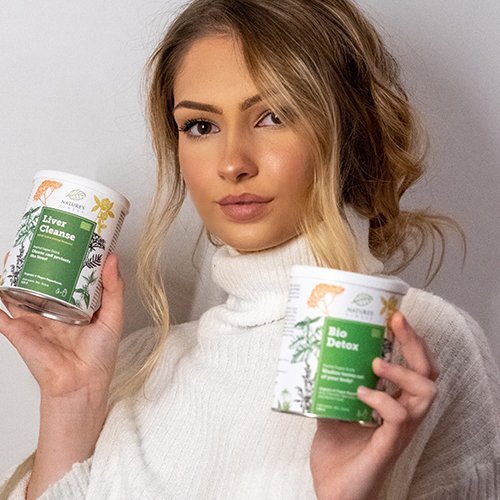 Megan
I drink it for a month, results are amazing! More energy, better digestion, detoxification - it's really good!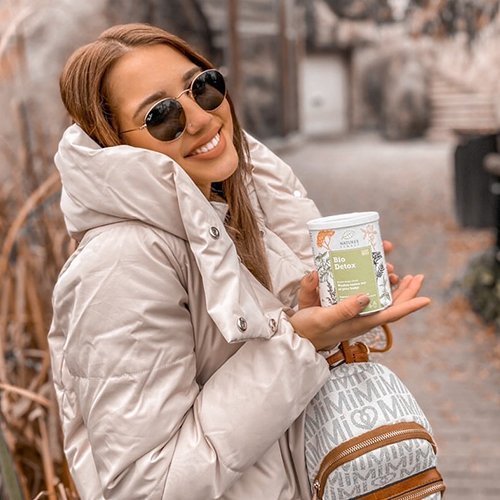 Audrey
I drink these two for some time now and finally I regulated my digestion. Honestly, the taste is not exactly the best, but I mix it with lemonade.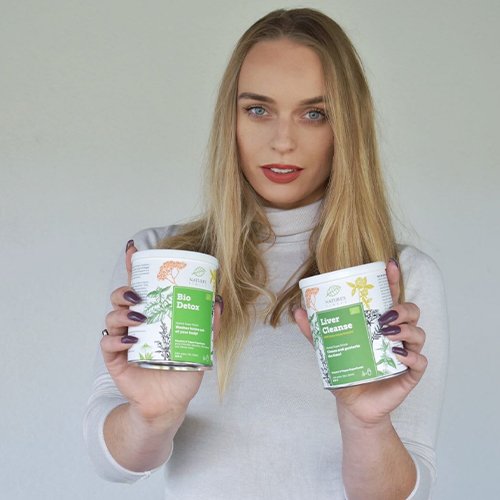 Eve
Essential bundle after the holidays, removes all the accumulated things from the body! Helped me regulate my digestion as well.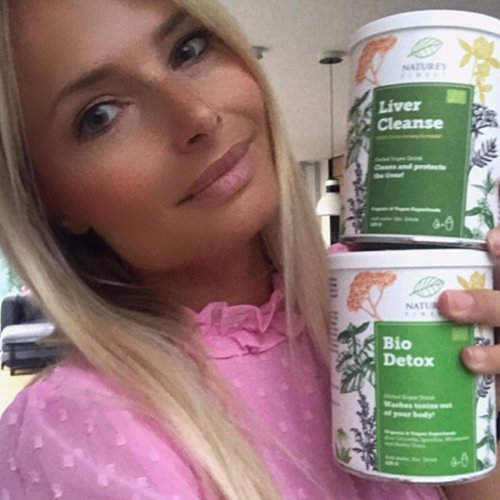 For better success, we also give you a specialized meal plan!
The meal plan will help you stick to a healthy diet, without starvation or having to follow an impossible diet.
It contains delicious recipes and a detailed explanation of the detoxification process of the body.
This way you can achieve a reduced volume around the abdomen, regulated digestion, improved cholesterol levels and strong immune system, all of it in the most pleasant and tasty way.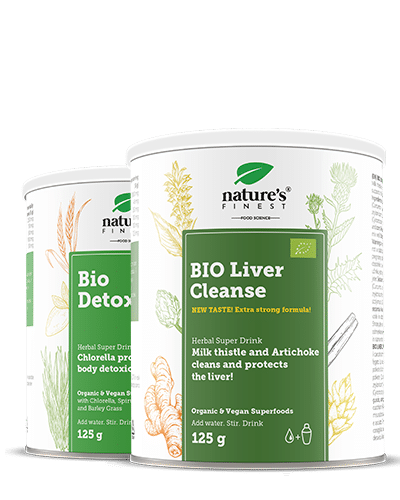 Healthy Liver bundle
Natural programme for liver cleansing

Prevents the accumulation of fat around the liver

Promotes detoxification of the body

For better digestion

Helps maintain vitality

Helps maintain lung health

For healthy heart

For better well-being and more energy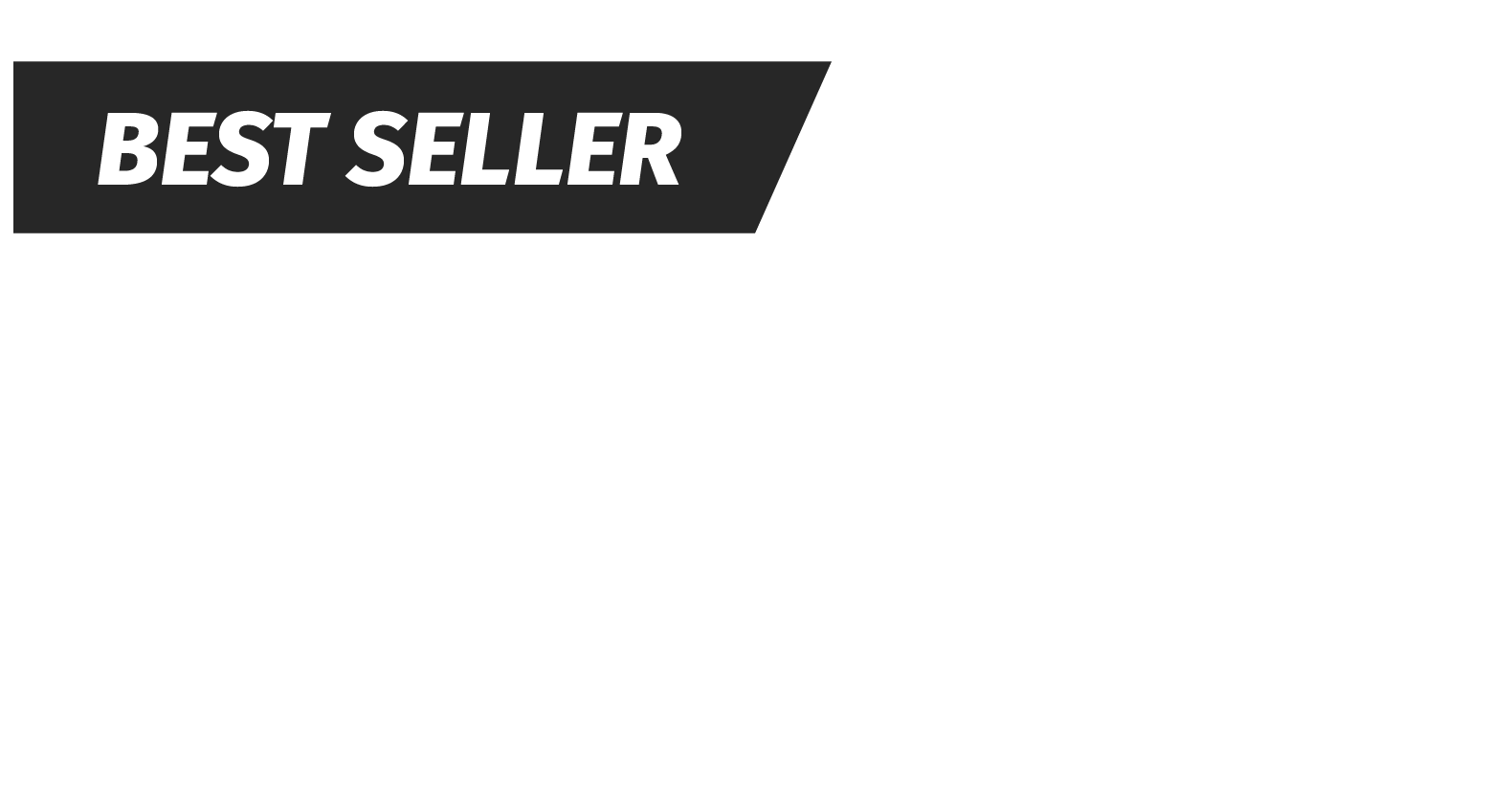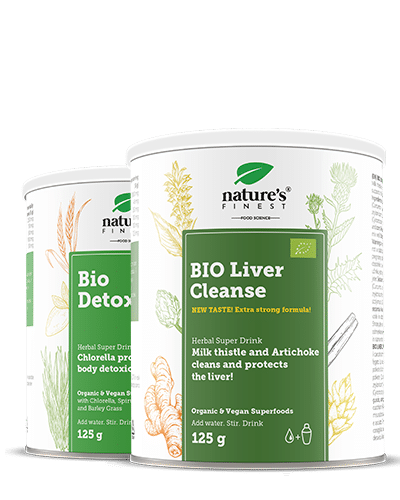 Healthy Liver bundle
NATURAL LIVER CLEANSE PROGRAM
Prevents the accumulation of fat around the liver
Promotes detoxification of the body
For better digestion
Helps maintain vitality
Helps maintain lung health
Supports heart health
For better well-being and more energy
100% purchase protection with the option of returning the product - no questions asked.
CUSTOMER REVIEWS





USAGE INSTRUCTIONS

Ingredients
USAGE INSTRUCTIONS

In the morning, add 1 teaspoon of DETOX green mixture in a freshly squeezed orange or lemon juice mixed with water. This will awaken the body and stimulate detoxification.

In the evening, add the LIVER CLEANSE in a cup of water, which will stimulate the cleansing of the liver overnight and help you use the resting time wisely.

Warnings

We recommend taking a dietary supplement as part of a varied and balanced diet and a healthy lifestyle. A dietary supplement is not a substitute for a balanced and varied diet. The recommended daily amount or dose must not be exceeded. Keep out of reach of children!

Ingredients

LIVER CLEANSE – dietary supplement.

Milk thistle, sweetener erythritol, turmeric powder, natural orange flavor (3%), ginger powder, cinnamon, artichoke extract. *Organic 

BIO DETOX – dietary supplement.

Wheatgrass (triticum aestivum)*, spirulina (arthrospira sp)*, chlorella (chlorella vulgaris)*, barley grass (hordeum vulgare)*, lucuma (pouteria lucuma)*. *Organic
Only 45€ left till FREE DELIVERY
Special offer only here!
Add to your order and save!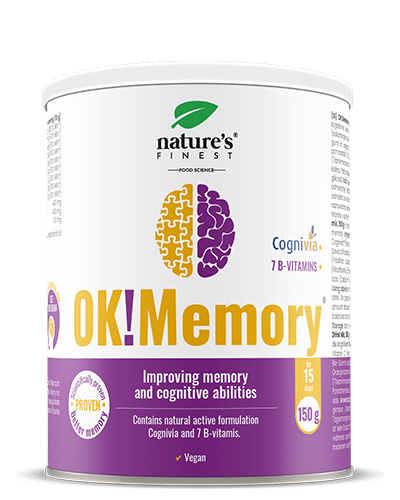 OK!Memory*
Improve concentration and memory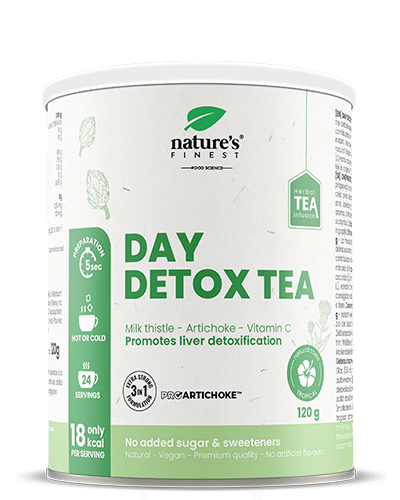 Day Detox Tea*
Natural tea blend with powerful healing herbs - white tea, milk thistle and artichoke extract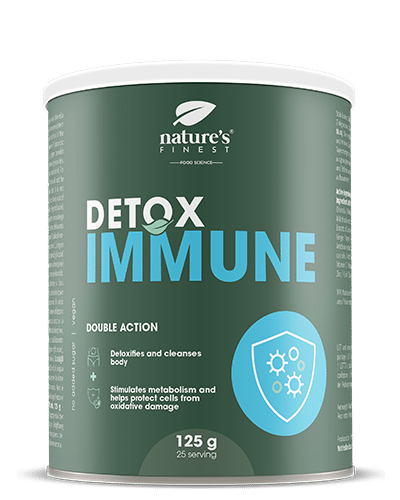 Detox Immune*
2-in-1 detox formula that cleanses the body and strenghtens your immune system