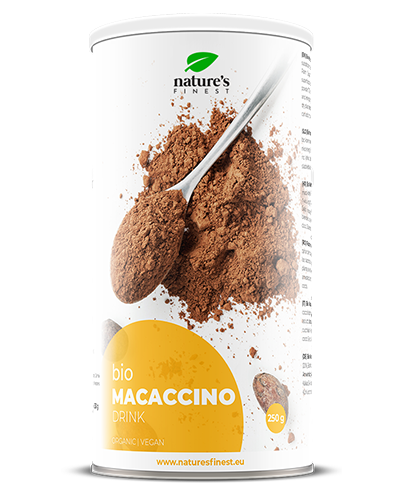 Macaccino Bio
A healthy and delicious coffee alternative with chocolate and Maca
100% organically produced
Healthy coffee substitute
Quick and easy to make
Cold or hot drink
Boosts energy levels
Decaf
Net 250 g
14-day refund policy

Free delivery for orders over 50€

Delivery within 6-7 working days









Macaccino is a superfood and a delicious coffee substitute that doesn't contain caffeine. 
This incredible blend contains organically produced raw cocoa, maca powder and coconut palm sugar. Its energy-boosting properties make it a coffee and black tea alternative.
Maca supports physical and mental capacity and raises energy levels.
Raw cacao adds full delicious flavour and coconut palm sugar leaves a sweet caramel aftertaste.
MACA
Maca is a root that supports physical and mental capacity and raises energy levels.
CACAO
Organically produced, raw, 100% natural cacao with heavenly aroma perfect for anybody with a sweet tooth! It contains magnesium and iron which make you less fatigued and are rich in antioxidants. More antioxidants than green tea!
COCONUT SUGAR
Organically produced coconut sugar is a healthy alternative to regular white sugar.
Why is Macaccino better than coffee?

High energy levels without a later crash
Sweet
A good source of antioxidants
Naturally anti stressful and calming
No bad breath and discoloured teeth

Causes a caffeine crash
Sour
Weak source of antioxidants
Causes stress and restlessness
Causes bad breath and discoloured teeth
Amber
A great and delicious coffee that really helps relax.
Samantha
I almost completely substituted coffee with this, because I like this cocoa much more.
Frankie
A great solution for individuals who live a healthy lifestyle and it tastes absolutely amazing!
Macaccino is rich in protein and dietary fibre. It is a source of iron, magnesium and manganese.
Iron contributes to the functioning of the immune system and the reduction of tiredness and fatigue.
We need magnesium for healthy bones, muscles and nerves.
Manganese protects cells from oxidative stress.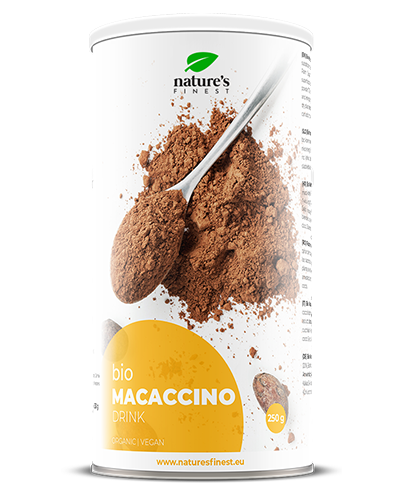 Macaccino Bio
A healthy and delicious coffee alternative

100% organically produced

Healthy coffee substitute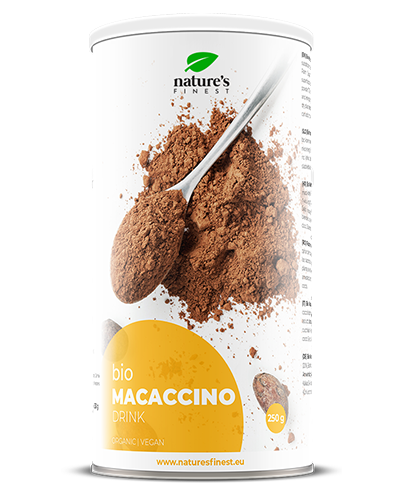 Macaccino Bio
A healthy and delicious coffee alternative with chocolate and Maca
100% organically produced
Healthy coffee substitute
Quick and easy to make
Cold or hot drink
Boosts energy levels
Decaf
100% purchase protection with the option of returning the product - no questions asked.
CUSTOMER REVIEWS





USAGE INSTRUCTIONS

Ingredients

Nutritional Values
USAGE INSTRUCTIONS

Macaccino can be drunk hot or cold. Add to beverages, ice-creams or desserts. Make as cocoa.

Warnings

The recommended daily amount must not be exceeded. The product is not a substitute for a balanced and varied diet.

Ingredients

Macaccino powder Bio – food supplement.

Ingredients: Cacao powder (theobroma cacao)* (70%), Coconut sugar* (20%), Maca powder (Lepidium
meyenii Walp)* (10%). *Organic

Nutritional Values

| | | |
| --- | --- | --- |
| | per 100 g | |
| Energy | 1117 kJ / 267 kcal | |
| Total fat | 10,2 g | |
| from which saturated | 5,6 g | |
| Carbohydrates | 67,7 g | |
| from which sugars | 19,6 g | |
| Dietary fiber | 23,8 g | |
| Protein | 15,4 g | |
| Salt | 0,04 g | |
| | | |
| Vitamins and minerals | per 100 g | NRV % |
| Iron | 11,21 mg | 80 % |
| Magnezium | 349 mg | 93 % |
| Manganese | 2,74 mg | 137 % |

*NRV = Nutritional Reference Value
Only 45€ left till FREE DELIVERY
Special offer only here!
Add to your order and save!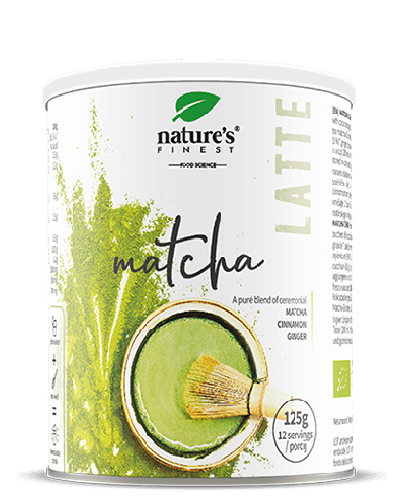 Matcha Chai latte*
A natural alternative to coffee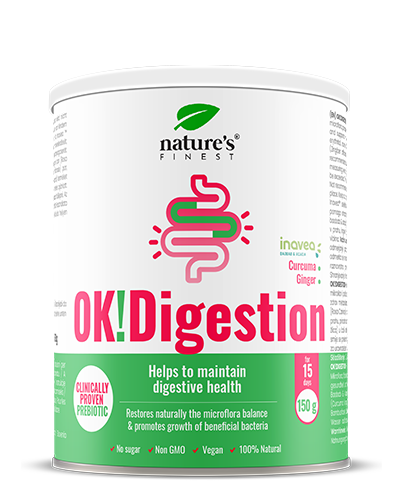 OK!Digestion*
An effective formula for restoring the natural balance of microflora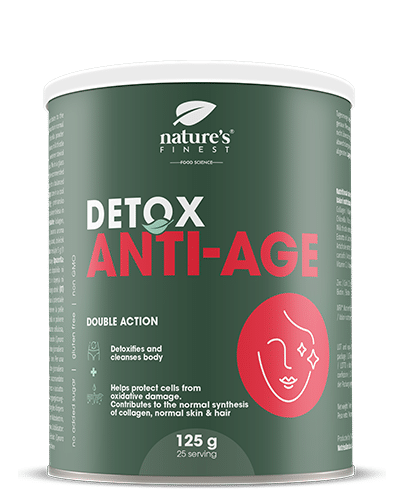 Detox Anti-Age*
A 2-in-1 beauty detox formula that helps cleanse the body and prevent oxidative damage to cells