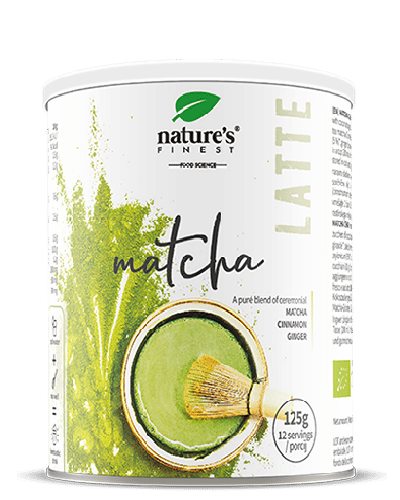 Matcha Chai latte
HEALTHY AND TASTY ALTERNATIVE TO COFFEE
Awakens the body
Long-lasting energy without a subsequent drop
Supplies the body with important antioxidants
Helps better digestion
Without added sugars, amazing flavour
Net 125 g | for 14 days
14-day refund policy

Free delivery for orders over 50€

Delivery within 6-7 working days









Most of us can not imagine a morning without a sip of good and rejuvenating coffee.
Morning rituals are important, and if we do not practice them in peace, it may negatively affect our well-being during the day.
However, for most people, coffee works only temporarily…
This means that we feel good for a short period of time, and after half an hour we no longer feel its effects at all. Many times, after the morning coffee (or after the second one) we can feel tense and even less energised than before.
The reason for this is the effect of the caffeine on the body.
In the beginning, caffeine is quickly released and causes a sudden rise in energy and concentration. However, after about 30 minutes, the energy and concentration drop sharply, and many times it happens that we have even less energy than before.
Besides that, for some people, large amounts of caffeine - 95mg per serving - can cause nervousness and agitation, sometimes even tremors, problems with digestion, or headaches.
What if we could get all the positive effects, like better concentration, energy boost, and give the body all those important antioxidants, without any side effects?
With the natural power of Matcha Chai Latte, we can make this come true!
QUALITY AND EFFECTIVE INGREDIENTS
Matcha
Matcha are dried and finely ground green tea leaves, which makes it the ultimate form of green tea, with highest quality. It is a rich source of antioxidants and vitamin C.
CINNAMON
Cinnamon is a spice with a mind-blowing aroma and many benefits to our health. It supports digestion, raises energy levels and helps maintain normal blood lipid levels.
GINGER
Ginger is a spice used in both – cooking and medicine, as it helps increase vitality and energy, supports body's natural defence system and the immune system.
MESQUITE
100% natural sweetener from the carob tree, with caramel-like taste.
Why Matcha is better than coffee?

Raises energy levels without a subsequent drop
Provides energy for up to 6 hours
Great source of antioxidants
Maintains a healthy digestive tract
Rich in chlorophyll – helps detoxification
Does not cause bad breath and yellow teeth

Causes a rapid rise in energy, but sharply drops it
Rises energy only for 30 minutes
Poor source of antioxidants
Has a negative effect on digestion
Inhibits detoxification
It causes bad breath and yellow teeth
Anna
Positively surprised! I didn't think I would be able to replace my morning coffee, but I have to admit, I feel much better after the Matcha drink.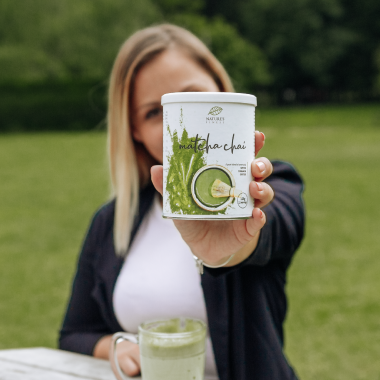 Phoebe
I would recommend it to anyone who feels bad after coffee and wants to naturally raise body's energy. Helped me with concentration at work.
Monica
I'm glad I found a beverage to help me replace coffee. Now I never feel tired or bloated again.
Matcha does not contain only caffeine!
Both coffee and Matcha, contain naturally occurring caffeine, only in different amounts. A cup of coffee contains about 95 mg of caffeine and a cup of Matcha about 70 mg.
The huge difference between them is in the way the caffeine acts on the body, which highly depends on the other substances found in the plant.
Matcha contains a high dose of L-theanine, rare amino acid that causes caffeine to be released more slowly and more evenly than the caffeine from the coffee. Because of that, we avoid a rapid rise in energy, followed by a steep drop.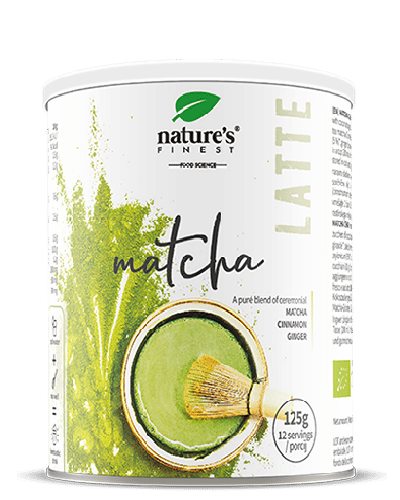 Matcha Chai latte
Healthy alternative to coffee

Provides more energy without any side effects

Helps improve memory and concentration

Supplies the body with important antioxidants

Helps improve the digestion

Without artificial sweeteners and flavours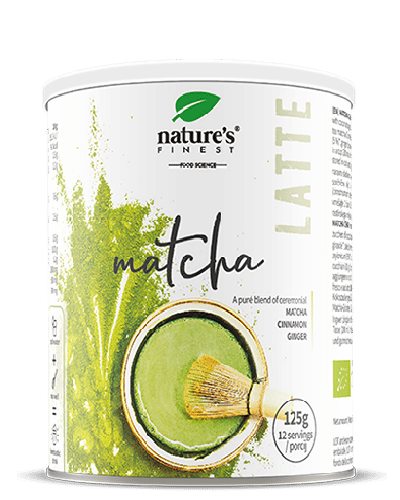 Matcha Chai latte
HEALTHY AND TASTY ALTERNATIVE TO COFFEE
Awakens the body
Long-lasting energy without a subsequent drop
Supplies the body with important antioxidants
Helps better digestion
Without added sugars, amazing flavour
100% purchase protection with the option of returning the product - no questions asked.
CUSTOMER REVIEWS





USAGE INSTRUCTIONS

Ingredients

Nutritional Values
USAGE INSTRUCTIONS

The recommended daily intake is 10g (2 teaspoons). Put in a cup (250 mL) of water or plant-based milk and mix well to make it foam.

Warnings

The recommended daily amount must not be exceeded. The product is not a substitute for a balanced and varied diet.

Ingredients

Matcha Chai latte

Ingredients: Rice drink powder* (rice*, oat beta-glucans, sunflower oil*, salt), matcha powder* (20%), mesquite powder*, cinnamon*, ginger*. *Organic

Nutritional Values

| | | |
| --- | --- | --- |
| | per 100g | per portion (10g) |
| Energy | 367 kcal / 1536 kJ | 37 kcal / 154 kJ |
| Total fat | 3,5 g | 0,3 g |
| from which saturated | 2,1 g | 0,2 g |
| Carbohydrates | 72,8 g | 7,2 g |
| from which sugars | 17,3 g | 1,7 g |
| Protein | 7,4 g | 0,7 g |
| Salt | 0,1 g | 0,01 g |

* NRV = Nutritional Reference Value
Only 45€ left till FREE DELIVERY
Special offer only here!
Add to your order and save!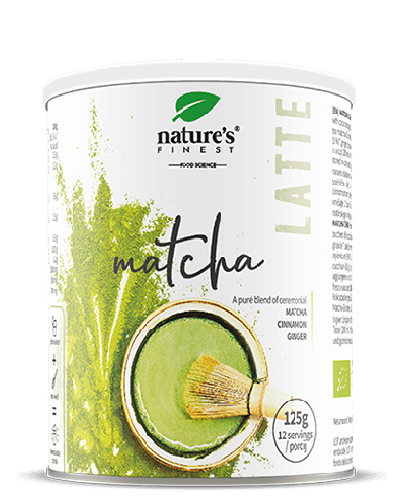 Matcha Chai latte*
A natural alternative to coffee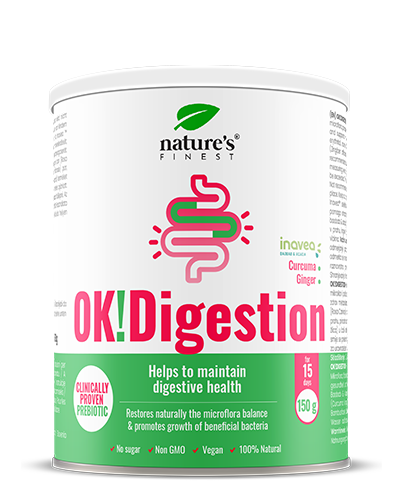 OK!Digestion*
An effective formula for restoring the natural balance of microflora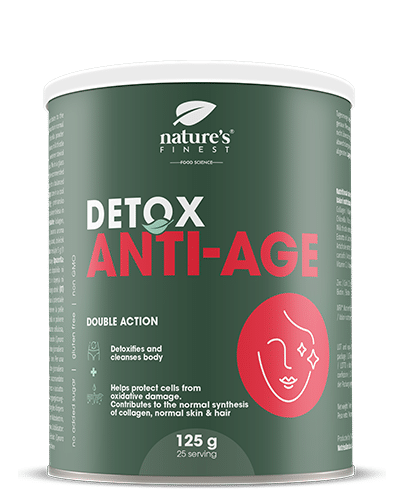 Detox Anti-Age*
A 2-in-1 beauty detox formula that helps cleanse the body and prevent oxidative damage to cells