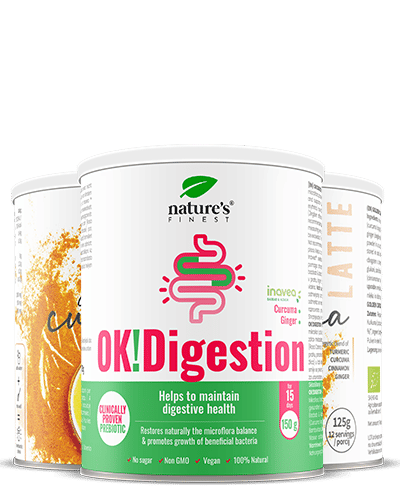 OK!Digestion + 2x Golden Curcuma latte
REDUCE INFLAMMATION USING CURCUMA
Confirmed anti-inflammatory effects
Supports the immune system
Excellent source of antioxidants
Boosts energy naturally
Improves mood
Helps regulate digestion
Without artificial sweeteners or flavours
Net 400 g | for 39 days
14-day refund policy

Free delivery for orders over 50€

Delivery within 6-7 working days









QUALITY AND EFFECTIVE INGREDIENTS
ID-alG ™
Its active medicinal ingredient, curcumin, is one of the most powerful, natural, anti-inflammatory and antibacterial substances. Besides, antibacterial action can be attributed to berberine and hydrastine, other substances found in Curcuma. 
CURCUMA
Ginger is a spice used in both – cooking and medicine, as it helps increase vitality and energy, supports the body's natural defence system and the immune system.
CINNAMON
Cinnamon is a spice with a mind-blowing aroma and many benefits to our health. It supports digestion, raises energy levels and helps maintain normal blood lipid levels.
RICE DRINK POWDER
It is recommended to consume Curcuma with milk for better absorption, so we added a plant-based drink to our mixture to make sure that the drink is also suitable for vegans. Rice drink is easily digestible as it has very little protein and fat.
Monica
When I first tried, it had a bit of a strong taste, but I quickly got used to it. Anyway, I have to praise the action, I feel lighter and I definitely recommend it for a healthy start to the day.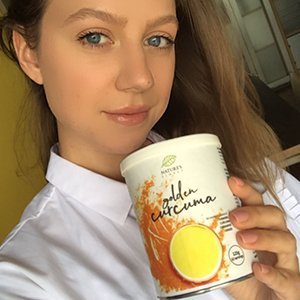 Petty
I had digestive problems for a long time and didn't know what to do. Then I discovered OK!Digestion and it changed my life! My digestion has improved, and I feel much better.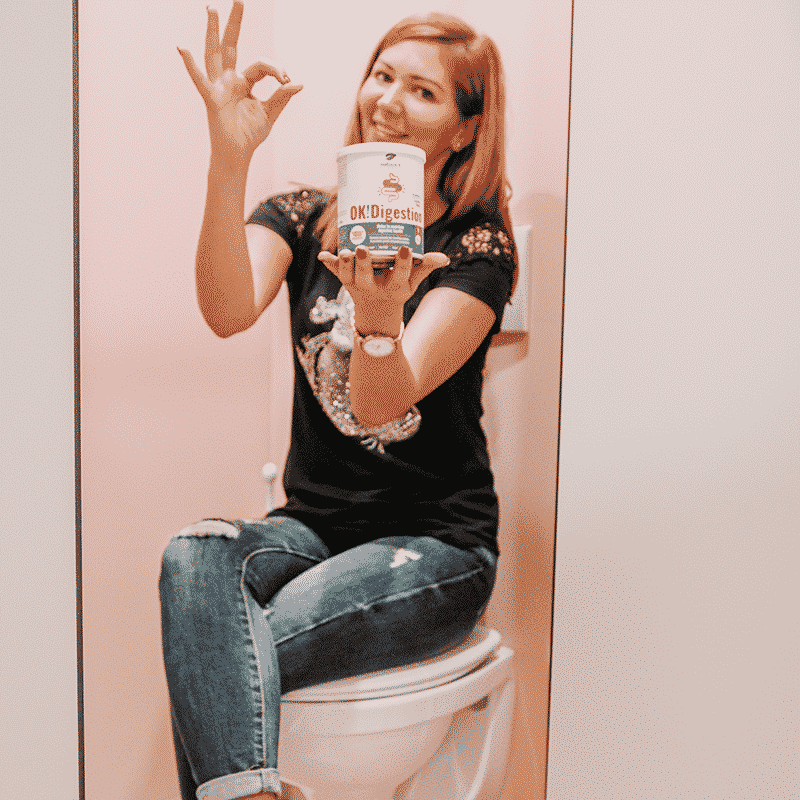 Nicole
I have had problems with a lot of headaches for a while now, and many times I felt tired. Since drinking this curcuma drink, I definitely feel better.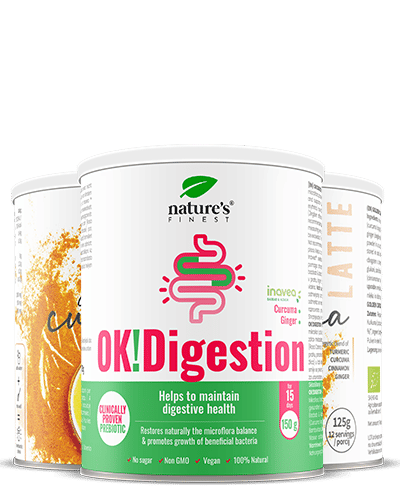 OK!Digestion + 2x Golden Curcuma latte
Reduce inflammation and take care of your health

Anti-inflammatory action

Improves immune system function

Supports the nervous system

Protects the liver and other organs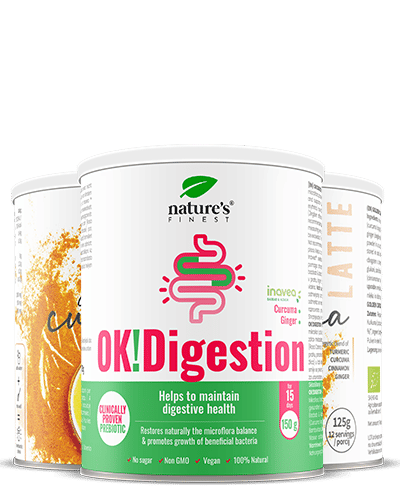 OK!Digestion + 2x Golden Curcuma latte
REDUCE INFLAMMATION USING CURCUMA
Confirmed anti-inflammatory effects
Supports the immune system
Excellent source of antioxidants
Boosts energy naturally
Improves mood
Helps regulate digestion
Without artificial sweeteners or flavours
100% purchase protection with the option of returning the product - no questions asked.





USAGE INSTRUCTIONS

Ingredients

CUSTOMER REVIEWS (

0

)
USAGE INSTRUCTIONS

Golden Curcuma latte: The recommended daily dose is 10 g (2 tablespoons). Put in a cup (250 mL) of water or plant based drink and mix well to make a foam.

OK!Digestion: Stir 10 g (1 tablespoon) into a glass of water and drink. Weighing is recommended for accurate dosing.

Warnings

The recommended daily amount must not be exceeded. The product is not a substitute for a balanced and varied diet.

Ingredients

Golden Curcuma latte

Ingredients: Rice drink powder* (rice*, oat beta-glucans, sunflower oil*, salt), turmeric* (20%), coconut sugar*, cinnamon*, ginger*. *Organic

OK Digestion – dietary supplement with sweetener.

Ingredients: Inavea ™ baobab & acacia, sweetener erythritol, rosehip (Rosa Canina) powder, turmeric (Curcuma longa) powder, ginger (Zingiber officinale) powder, natural lemon aroma (3%), bamboo fibre.

CUSTOMER REVIEWS (

0

)
Only 45€ left till FREE DELIVERY
Special offer only here!
Add to your order and save!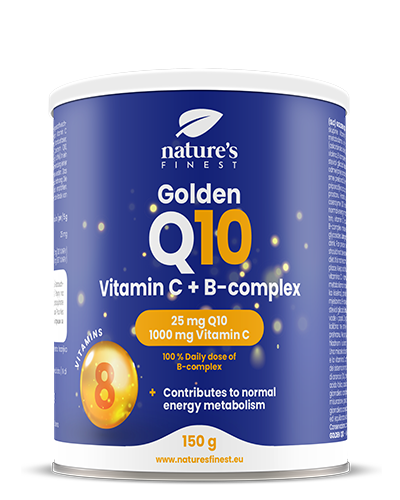 Golden Q10
Revolutionary formula with coenzyme Q10, vitamin C and B-complex for protection against oxidative damage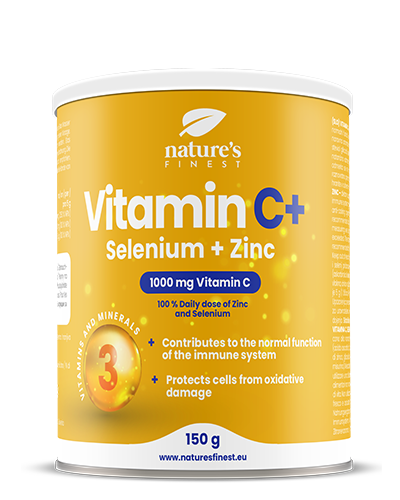 Vitamin C + Selenium + Zinc*
Revolutionary formula with vitamin C, selenium and zinc for strong immune system!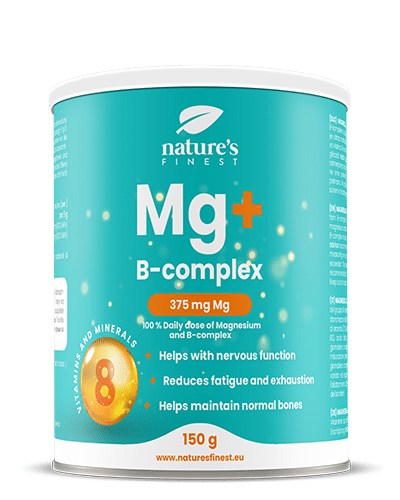 Magnesium + B-complex
A revolutionary formula with magnesium and B vitamins to reduce fatigue and exhaustion